A callous mother and stepfather who battered to death a four-year-old boy after subjecting him to six months of systematic starvation and "incomprehensible" cruelty have been found guilty of murder.
A jury at Birmingham Crown Court convicted Magdelena Luczak and Mariusz Krezolek of killing Daniel Pelka after hearing how he was denied food, regularly "imprisoned" in a locked room, force-fed salt and made to perform arduous punishment exercises.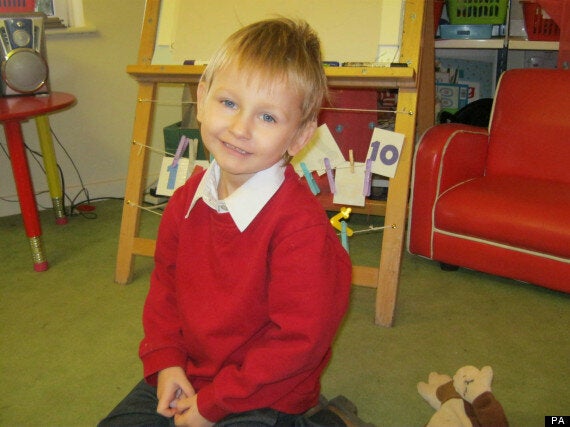 Daniel was systematically starved and beaten
The boy's murder, which occurred weeks after teaching staff saw him with bruising to his neck and black eyes, is the subject of a serious case review by Coventry's Safeguarding Children Board.
Neither Krezolek nor Luczak, who will be sentenced on Friday, showed any obvious emotion as the guilty verdicts were returned after around four hours of deliberation.
A nine-week trial at Birmingham Crown Court heard the couple, both originally from Poland, hid the horrifying abuse by claiming Daniel had an eating disorder.
Jurors were also told how Daniel was left to die in his unheated "cell" for around 33 hours after suffering a fatal head injury at his Coventry home on March 1 last year.
Former soldier Krezolek - described in court as a heartless "monster" - and Luczak blamed each other for Daniel's death during the trial.
But text messages between the pair proved they worked as a team to inflict the sickening abuse and even decided not to summon an ambulance as Daniel lay dying with more than 20 separate injuries.
The pair also carried out Google searches - including one for "patient in a coma" - which suggested the youngster had been beaten, subjected to an attempted drowning, and poisoned with salt during his final hours.
Krezolek, by his own admission, also went online to check his bank account and the price of car tyres after Daniel, who weighed just 1 stone 9 lbs, was repeatedly struck around the head, causing his brain to swell.
The serious case review will examine why social services and police did not become involved after staff at Daniel's Primary School noticed bruising on his neck and what appeared to be two black eyes.
Although the injuries to the neck were entered in a concerns book at Daniel's school, no written record was made of the later bruising seen around his eyes.
The trial heard Luczak played a leading role in convincing teachers and medical professionals that Daniel's dramatic weight loss, which left him looking like a famine victim, was due to a rare genetic disorder.
The serious case review is also expected to look into contact between doctors and Daniel, who was seen by a community paediatrician and found to be underweight but not "wasted" three weeks before his death.
During the meeting with the paediatrican, Dr Supratik Chakraborthy, Krezolek laughed out loud as Luczak explained how Daniel had once eaten discarded chips he had picked up from a pavement.
Medical records show Daniel weighed 14.8kg in January 2011 and 13.8kg three weeks before his death.
But the schoolboy, who had developed normally until January 2011, weighed just 10.7kg and was in a state of "skeletal emaciation" at the time of his death on March 3 last year.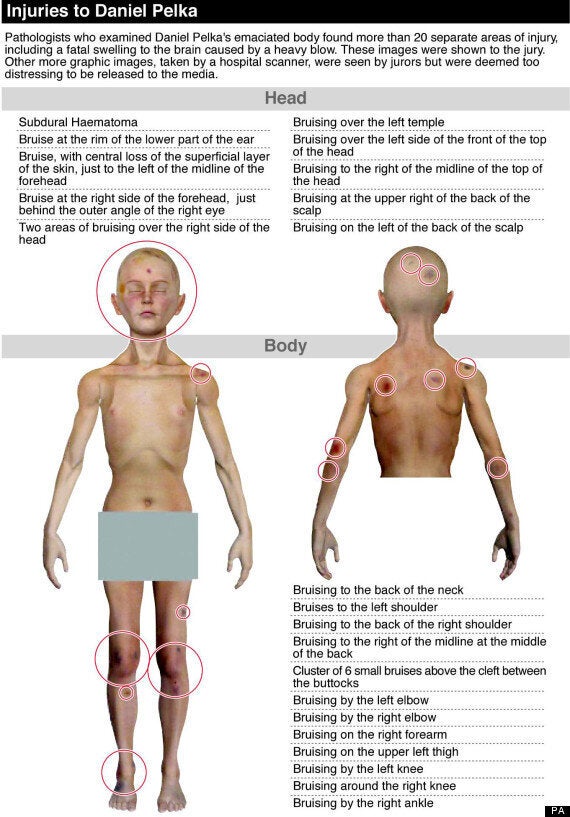 Graphic detailed the horrific injuries inflicted upon Daniel
Experts in paediatric development told the court Daniel had low iron stores, low zinc stores, wafer thin body fat, and barely any muscle at the point of his death.
Although he should been around 3ft 9ins, he was only 3ft 3ins because his bones had stopped growing due to food deprivation over at least three months and possibly up to nine months.
Factory worker Krezolek and Luczak, who did not ill-treat a sibling of Daniel, were both drinking heavily and taking drugs, including cannabis and amphetamine, at the time of the abuse.
The couple, who never took Daniel to see his GP, had previously colluded in covering up an earlier act of cruelty in which Daniel's left arm was broken "clean in half" by Krezolek in a fit of temper.
Social services closed their file on Daniel five months after the injury was passed off as an accident in January 2011.
During the trial Prosecutor Jonas Hankin QC alleged the fractured limb may have been a trigger for the later abuse, which escalated after Daniel began attending school in September 2011.
Daniel is said by witnesses to have been "disappearing" inside his school uniform and looked "desperate and lonely" as he lost weight.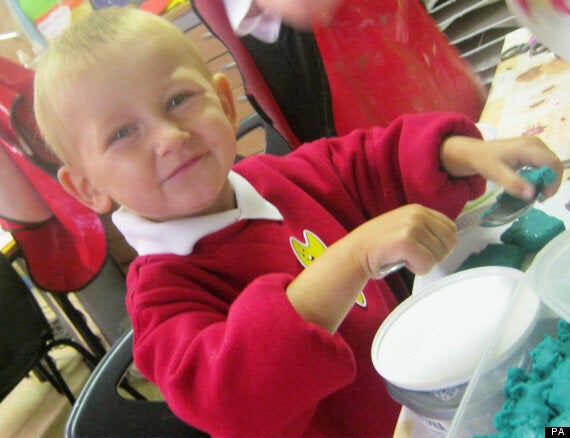 In their evidence to the court, Krezolek, 34, and Luczak, 27, admitted they had gone to sleep on both nights that Daniel lay dying in the box room, and even had sex after his death.
Among the text messages which showed that the couple "took relish" in their abuse, was one saying "he won't see grub at all" and another stating that he had nearly been drowned.
A message sent by Krezolek on October 7, 2011, also urged Luczak to lock Daniel in the box room and wait for him to return home.
Krezolek, who served jail sentences for driving while disqualified in 2006, 2007 and 2008, denied murder and causing or allowing Daniel's death.
Luczak denied murder but had admitted through her counsel that she was guilty of causing or allowing her son's death.
Due to the convictions for murder, no verdicts were required from the jury on the lesser alternative charge of causing death.
In a brief statement released by police, Eryk Pelka, Daniel's biological father, said: "It's a great tragedy that such a little angel had to leave this world.
"I hope that those responsible will be punished severely."
Related