'Downton Abbey' will not go to war again - the show is set to finish before World War II.
Executive producer Gareth Neame told the Hollywood Reporter the hit ITV period drama will not run as far as the next war, but still has a long future ahead of it.
FIRST LOOK: 10 Things We Know About 'Downton' Series 4
Recalling the first description of the house in the first script, he said: "It's described as a wonderful house, a stately home in this beautiful park land. It looks as though it will stand a thousand years. It won't."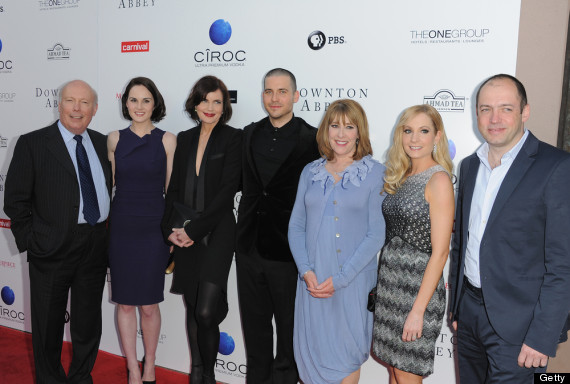 Creator Julian Fellowes, actors Michelle Dockery, Elizabeth McGovern, Robert James-Collier, Phyllis Logan, Joanne Froggatt, and executive producer Gareth Neame
He went on: "The show is so popular around the world now... It's beloved. The fourth season is in extremely good health, and my mind is already in the fifth season. I will say we're not going to World War II, but that's 18 years away. We want to make the show. When we feel it's had its time, hopefully we'll know before you guys. But it's not anytime soon."
Show star Michelle Dockery, who plays Lady Mary Crawley, admitted she panicked when she first heard Dan Stevens (her on-screen husband Matthew) wanted to leave the show and would be killed off in a car crash at the end of the last series.
She said: "My first reaction was, 'Oh, c**p.' Initially I was concerned, but now I'm not. It's a very different series from what it could've been."
Michelle also revealed about her character in series four: "She has more than one love interest. She's kind of slowly throughout the series coming back to real life, and of course it's important for her to eventually move on."
After Dan's shock exit, Michelle said she wasn't expecting any more main actors to leave in series four and that there would be a fifth series to come.
"As far as we know, we're all doing series five next year," she said. "Beyond that, it's in the hands of [creator] Julian Fellowes and our producers. If other actors start leaving, it would be a worry, but it's been fine so far."
LIKE US ON FACEBOOK | FOLLOW US ON TWITTER