Despite the One Direction boys' love of getting tattooed, Niall Horan has so far managed to resist the temptation to get inked... until now.
And never mind meaningless Chinese symbols or an ex girlfriend's name, instead Niall opted for something truly original to break his tattoo cherry - James Corden's face.
On his backside.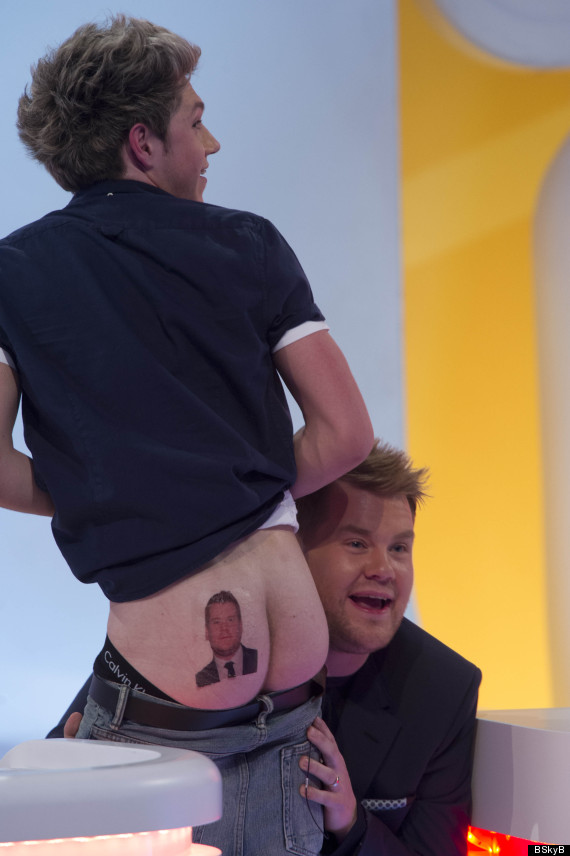 Niall Horan reveals his cheeky new tat - much to the amusement of James Corden
Cheeky.
But before you all rush to your nearest tattoo parlour requesting the same design (we know you want to), you might want to think twice because Niall's tat is, thankfully, only temporary.
Well, we say temporary, the poor lamb still had Mr. Corden's face on his left buttock for THREE weeks before it completely disappeared.
Niall revealed the design during an appearance on Sky 1 comedy panel game show 'A League Of Their Own'.
James Corden, who hosts the show said: "We made a thing on the show that he's the only member of the band without a tattoo. I said to him we've got this idea of putting a tattoo of my face on your body. Niall went, 'You should put it on my ar*e'.
"We tattooed it on to his left buttock — it took him three weeks to get rid of it.
"He sent me updates every week, with a photo of my fading face on his a*se saying, 'It's still not gone yet'."
But despite the temporary inking, Niall has no plans to join Harry Styles, Zayn Malik, Liam Payne or Louis Tomlinson in getting something more permanent.
And anyone who's seen his One Direction bandmates' bizarre collection of tats will know he's made the right decision.
The new series of 'A League Of Their Own' starts 23 August on Sky 1 HD

LIKE US ON FACEBOOK | FOLLOW US ON TWITTER