So I didn't bring up the subject of Aaron Taylor-Johnson's wife Sam, something he finds surprising – apparently, everyone else does. Possibly because of the undeniably romantic way they met – he the star, she the director of John Lennon biopic 'Nowhere Boy'. But more probably because, at the age of 23, he is husband to Sam, 46, father to two daughters, and step-father to two more.
"I find it really interesting that so many people think age is a factor," he says, sounding genuinely surprised. "How do people even tell the age of anyone anymore? It's bizarre."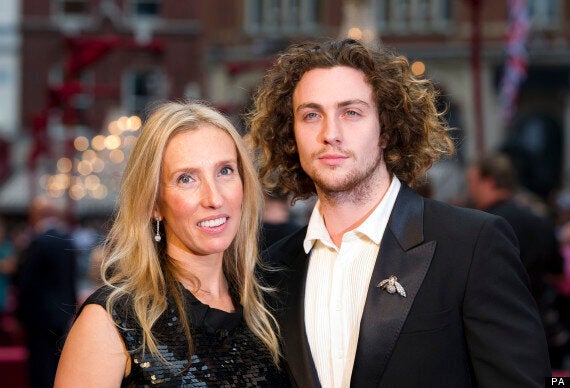 Aaron Taylor-Johnson with his wife artist Sam
You'd think by now that for Taylor-Johnson (a surname they both took when they wed last year) this would either be water off a duck's back or, more boringly, a no-go subject. Not a bit of it. Instead, he warms to his theme…
"Age to me doesn't f***ing matter at all. My wife feels younger than I do. Other than being the most wonderful down-to-earth woman, she's super intelligent, artistic, creative, there are so many things that are attractive about her."
It doesn't feel like it was something he ever particularly worried about, either, from the sounds of things…
"I've always thought like that," he replies, when I ask if it was meeting his wife that influenced his thinking. "I was brought up by my mum and my sister, I've always been around independent women, I like that. Anybody who's a fake I don't like and I don't talk to."
Ok, that's sorted then. The reason we got onto age in the first place was because of Taylor-Johnson's return to screen this week, reprising his title role in 'Kick-Ass 2', three years after the original.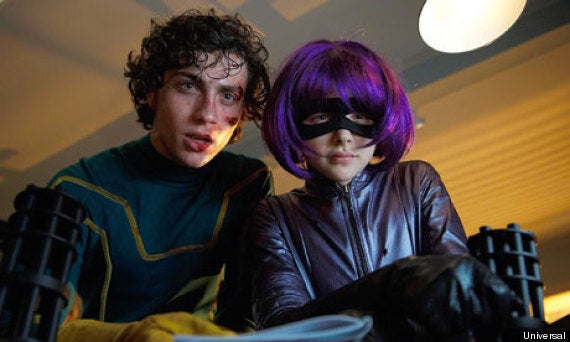 With 'Hit Girl' Chloe Grace Moretz in 'Kick-Ass 2'
As T-J explains it, while his co-stars Chloe Grace Moretz and Christopher Mintz-Plasse (what is it with Kick-Ass and double-barrels?) got to play evolved characters, with Hit Girl hitting high school and Chris D'Amico finding his dark side respectively, for Kick-Ass himself, it was a case of returning to "the same f***ing old character, exactly where you last left him".
"I had to go back four years and be an adolescent teenage kid in high school. Nothing about that character has changed at all. My hair was big, and we cut into that f***ing mushroom bob…
"I hate playing younger."
For some actors, this would be a case of walking through the lines, and pocketing the big fat sequel cheque, but not Taylor-Johnson, it seems…
"I'm happier to jump into a different character and keep changing it up. I'm a perfectionist, when I look back I'm never happy, think I could have done it. Jeff (Wadlow, director) showed me a documentary about superheroes on the street, dressed up in costume, and I started doing impersonations with all their quirky ticks and stuff, but Jeff pointed out 'that's not Dave, that's someone else. People need to recognise your character.'
"It's more of a challenge to go back and recreate what you did four years ago, be happy with what you did, stop being insecure, and just be pleased with the performance, accept it and taking him in this one through a journey.
"You have to believe in him. You see him where you last left him, and you see him growing into his role, taking responsibility for his actions, that's maturity."
Which is where the subject of age and marriage naturally came up…
'Kick-Ass 2' is in UK cinemas from tomorrow Wednesday 14 August. Watch the trailer below...
Related