Two of the world's most brutal dictators may not be exactly what immediately springs to mind when you think of crazy golf.
But an eyebrow-raising nine-hole set in Derby has sparked outrage for featuring giant models of Adolf Hitler and Saddam Hussein.
In a bizarre additional touch the Hitler statue raises its right arm in a Nazi salute and brusquely shouts "nein nein nein" when a golf ball is hit through its tunnel by players.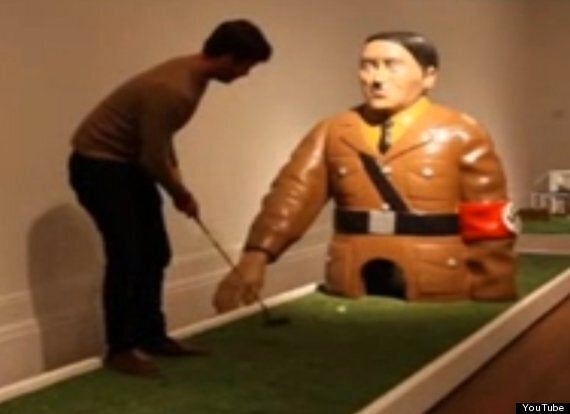 The crazy golf course has been slammed for featuring models of Adolf Hitler and Saddam Hussein
Another hole on the "tasteless" course depicts an animated statue of former Iraqi dictator Saddam Hussein.
Michael Samuels, of the Board of Deputies of British Jews, slammed the Hitler model, describing it to the Derby Telegraph as having "absolutely no artistic value whatsoever".
The controversial course is part of an art installation – called Doug Fishbone and Friends: Adventureland Golf – designed by some of the UK's most celebrated contemporary artists, including Jake and Dinos Chapman, David Shrigley, Gary Webb, and Doug Fishbone himself.
It has appeared in Blackpool, Berwick and Bristol and will feature at Derby's Quad for 16 days from August 31.
Quad's has insisted the holes "range from statements on politics and life and death, to fun challenges."
Peter Bonnell, the exhibition curator, said the odd figures will be used as a learning tool and the aim was not to offend people.
He added the exhibition was designed to ridicule the two dictators.
"Of course, Hitler and Saddam Hussein are controversial figures, no matter what you do with them," he told the Derby Telegraph.
"But this is not about glorifying them or saying they are good. Instead it is about that typical British way of ridiculing these things. It is a fun activity while raising some very serious issues."
The idea behind the exhibition, as with all art, was to stimulate debate and not to trivialise the serious issues and figures connected with them, he added.
Groups in the local area have been contacted by gallery bosses to see if they want to provide talks or educational material alongside the exhibition.