"I took my two dogs to the set, and I expecting doggy number three," she revealed at the launch of Series 4 in London's Mayfair yesterday. "So when she was born, she became my Downton dog, my special prize."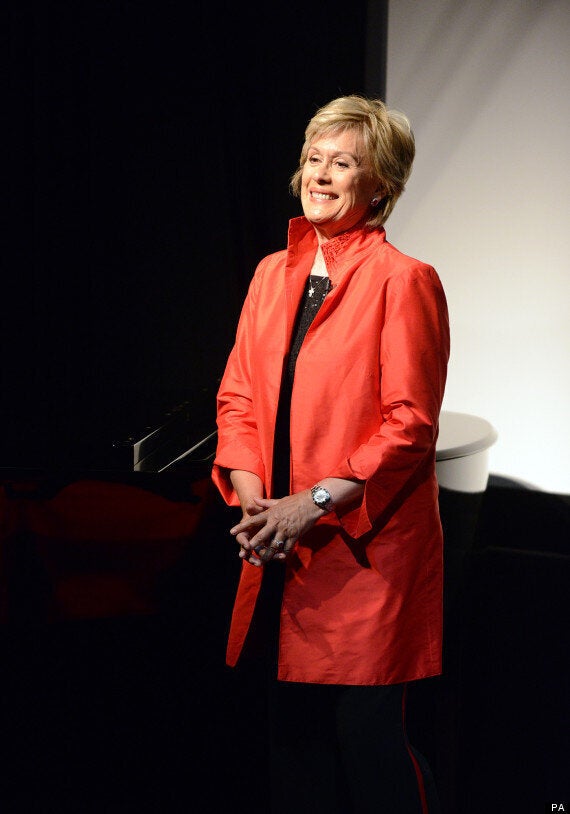 Dame Kiri was a surprise special guest at the series 4 launch in London yesterday
Dame Kiri Te Kanawa has sung for presidents and princes, including in front of a 600-million audience at Prince Charles's wedding to Lady Diana Spencer in 1981.
But the New Zealand-born opera singer has revealed that nothing was as frightening as her first day on the set of 'Downton', where she joined the rest of the established cast in her role as celebrated soprano Dame Nellie Melba.
"I'm not sure I was acting," Dame Kiri admitted modestly at the series 4 launch in London yesterday. "With that group of people, I'm not sure about that."
Dame Kiri, who shared her scenes with Lord Grantham and Tom Branson, had a few lines to speak, as well as two songs to sing.
"I think my first line went…." She mouths a big jumble. "And Lord Grantham (Hugh Bonneville) looked at me in wonderment. The second time I sort of got it out. It was exciting but frightening, because you're with people who are incredibly comfortable with what they're doing."
Dame Kiri, who will become the first person to play a real-life person in the hit drama, what she calls her "favourite programme in the entire world", was already interested in Australian Dame Nellie Melba, one of the most popular singers of her generation following her Covent Garden debut of 1888, but delved into a bit more research for her role.
"I learned she was performing every other night, and her wage was something like $3million, in today's money," she reported.
Hearing Dame Kiri explain this, the show's exec producer Gareth Neame added that they would gloss over just how Earl of Grantham had managed to afford such a high-profile performer at his house party, where Dame Kiri appears later in the series.
Actor Allen Leech, who plays Tom Branson, added that all the actors had run to the set on the morning that Dame Kiri was to sing live.
And Gareth Neame added that there had been a tear in the eye of many a hardened technician when she began to sing.
In an extra treat for those attending the series launch screening in London's Mayfair, Dame Kiri also gave a sneak preview of her 'Downton' performances, with renditions of Puccini's 'O Mio Babbino Caro' (from the opera Gianni Schicchi, that undeniably romantic tune used in 'Room with a View' too) and Antonín Dvořák's 'Songs My Mother Taught Me'.
Downton Abbey Series 4 will be on ITV later in the year, official start date to be announced soon. Some new pictures below: