14 August is a ingrained in cricketing history. Twenty-three years ago, 17-year-old Sachin Tendulkar hit the first of his 100 international hundreds in 1990, and 42 years before him Australia's Sir Donald Bradman was dismissed for a duck in his final Test match innings.
Bradman was dismissed second ball for nought when he needed just four runs to end with a staggering Test average of 100 at the Oval Ashes Test in 1948.
After receiving a standing ovation on his way to the crease he had tears in his eyes and, so the legend goes, did not see Warwickshire leg-spinner Eric Hollies's ball properly.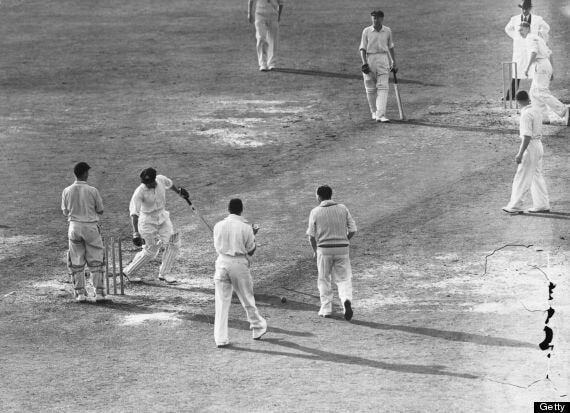 Bradman is bowled for a duck by Hollies
"I was not aware it was going to be my last innings," Bradman said decades later. "And neither was I aware at that stage that I wanted four runs to have a Test match average of 100.
"It was a very emotional occasion because you had all these fielders around who gave me three cheers before I took block."
Bradman, regarded as cricket's greatest ever batsman, ended with an average of 99.94 and was knighted the following year.