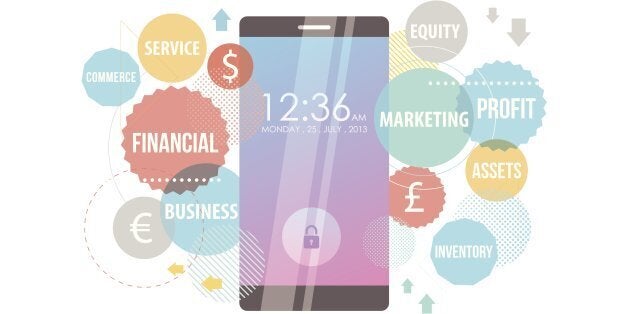 Internet banking has revolutionised the way we manage our money.
Smartphone banking is also on the rise, with over two in five mobile users now using their devices to access their accounts.
For those considering joining this growing trend, here's how to get started and stay secure with smartphone and tablet banking.
Banking through smartphone or tablet gives you fast access to your accounts when you're on the go or travelling away from home.
You can log-in via your mobile browser, but most of the major banks now provide free, secure apps that offer the same range of activities as Internet Banking.
Some also provide useful extras, like Barclays Pingit, which lets customers send and receive payments instantly by text, or the Halifax and Natwest apps, which include handy ATM finders.
Smartphone banking is just as secure as Internet banking, provided you choose the right software.
All legitimate banking apps require passwords and will accesses your details from a secure data centre, so your account data is never stored directly on your phone.
It's also important to follow a few basic safety rules:
• Download antivirus software and keep your app updated to avoid threats from malware
• Switch off Bluetooth when you use your app and don't access it over public wifi
• Don't let your phone's browser automatically save passwords
• Password lock your phone
• Delete texts from your bank after you read them
• Don't 'jailbreak' your phone as this can remove built in security features
The safety advice from the Payments Council is to avoid third-party downloads, stick to your bank's official app and get it direct from their website.
Santander, NatWest, First Direct, Halifax, Barclays, Nationwide, Co-operative, Lloyds TSB and HSBC have all created apps, to name but a few.
The HSBC Fast Balance app only offers access to, you guessed it, your balance, so it's not as comprehensive as some of the others.
For those people still waiting for their bank to launch or improve their app, there are some other secure options:
Ontrees (iOS - Free) uses the same level of encryption as Internet banking and gives you access to all of your accounts in one place. It lets you set budgets, create alerts and categorise transactions. It is a read only service so you can't move money around, which makes it safer but not as complete.
Account Tracker (iOS, Windows Phone – free/£1.99) won't access your account directly, but you can use it to input your income and expenses, compare accounts, create budgets and visualise where the majority of your money goes each month.
Toshl Finance (iOS, Windows Phone, Android - free) is a great companion for travellers, allowing you to budget and track your spending in multiple currencies and make currency conversions.
Your bank will never ask you for your account details via email or text, so any messages you get like this are very likely a scam.
Watch out for messages that ask you to update your account via a link too and only install software updates via your bank's website or official app store.
If the worst happens, your bank should protect you from fraud, providing you have taken all the usual safety precautions, but always remember to check the small print or check-in with your bank before downloading a new app.
Popular in the Community