The Egyptian ambassador to the UK has insisted the authorities' "did not use excessive force" in a crackdown on supporters of the ousted president which left more than 500 people dead.
Ashraf El-Kholy said the outbreak of violence in Cairo yesterday was led by supporters of ex-president Mohammed Morsi, and claimed that the large death toll was partly due to protesters killing each other due to their own recklessness. Ashraf El-Kholy has defended the government crackdown
Speaking at the Egyptian Cultural Bureau in central London, Mr El-Kholy said the police and army were forced to shoot at demonstrators.
"Of course they did nothing but return fire," he said.
"If you have somebody firing at you then you have to respond."
The UK Government has "condemned the use of force" to clear two protest camps and called for an emergency meeting of the UN Security Council amid an international outcry over the bloodshed in Egypt.
The request for a closed session to discuss the crisis - which is thought to have claimed the lives of more than 600 people - has been made jointly with France and Australia.
Mr El-Kholy told reporters that demonstrators had been given plenty of warning to leave by authorities who had taken what he claimed were "very gradual steps" meaning that any "innocent" people had already left.
"First there is an announcement in the last 10 days," he said.
"Later on there is an announcement on microphone, later loudspeakers for people to leave. Later on there was watercannon, after that tear gas and later on they started to use bulldozers to move rocks and sandbags.
"That gave a huge chance for innocent people to leave the area."
The official death toll in the clashes - which have drawn worldwide condemnation for the government's actions - has risen to 525.
But leaders of Mr Morsi's Muslim Brotherhood claim far more were killed in what they describe as a "massacre" on the streets of the capital.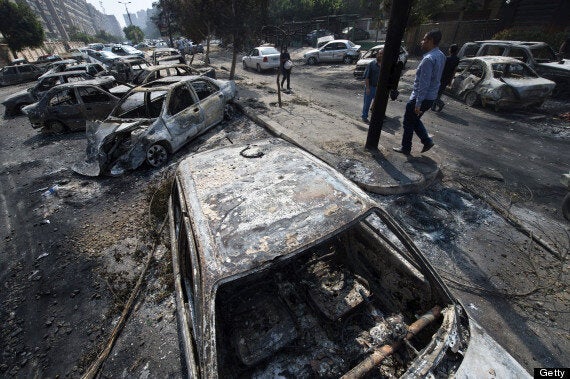 Claims over the death toll have varied, although over 500 are thought to have been killed
Mr El-Kholy expressed his "deepest regret" at the loss of life, and referred to Sky News cameraman Mick Deane who was among three journalists killed yesterday.
"My deepest condolences to the family of Mr Deane, the British national who was doing his job in Cairo.
"And also my condolences to anyone else who lost their friends or brothers or relatives," he said.
Asked by one of Mr Deane's Sky News colleagues about eyewitness reports that he was shot during a period of relative calm by a sniper positioned in a government building, the ambassador said there were no snipers in the police.
He said he had been informed of father-of-two Mr Deane's death yesterday, adding: "They told me they are still collecting evidence and information."
Mr El-Kholy insisted the official death toll figure was also made up of people who had died in places outside Cairo.
He showed journalists film footage he said was of protesters shooting at police with machine guns, along with a series of bloody images of murdered police officers including a general.
Among the dead were 42 members of the police and army, he said, and also claimed that demonstrators had used children as human shields.
Mr El-Kholy insisted the interim president was in control of the situation, adding: "I think he is running the country by legal measures and legal procedures."
The ambassador described the Muslim Brotherhood as having a "militant agenda" but added that they were "part of the fabric of Egyptian society" and should be free to run for parliament again in the next election in nine months time.
A month-long state of emergency has been declared by the interim government following the violence.
The streets of Cairo were reported to be uncharacteristically quiet today in the wake of the deadliest day of violence in the country since the 2011 pro-democracy uprising. Protesters took to the streets for a second day attacking a government building
A march has been called by the Muslim Brotherhood, which said it remained committed to non-violent action to reverse the military coup which removed Mr Morsi, the country's first freely elected leader.
He was ousted in June amid mass protests against his year-old regime, which critics said had failed to address key economic and political issues and gave undue influence to the Brotherhood.
Mr Morsi and other leaders from the movement have been arrested.
In a blow to the new administration, Nobel Peace Prize-winner Mohamed ElBaradei resigned as Egypt's interim vice president in protest at the repression.
"I cannot take responsibility before God, my conscience and country for a single drop of blood, especially because I know it was possible to spare it," he said.
The Egyptian ambassadors in France and Germany were also summoned - French president Francois Hollande demanding "an immediate end to the repression" and the release of political prisoners.
US secretary of state John Kerry said the violence was a "serious blow" to political reconciliation efforts.
"The path toward violence leads only to greater instability, economic disaster and suffering," he warned Egypt's leaders.
An FCO spokeswoman said: "Yesterday we called in the Egyptian ambassador to express our deep concern at the escalating violence and unrest in Egypt.
"Simon Gass, the FCO political director, condemned the use of force to clear the protests and urged the Egyptian authorities to act with the greatest restraint."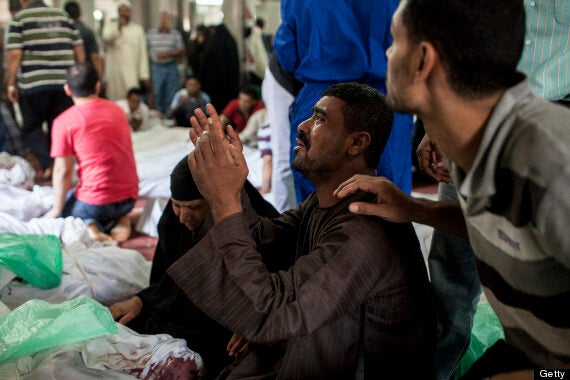 The Bishop of Wakefield, who speaks for the Church of England on foreign affairs, appealed to both sides to take the "necessary steps" to end the violence and condemned attacks on churches.
More than 20 Christian places of worship, including one Anglican church, are reported to have been set ablaze across the country by Morsi supporters in what the Rt Revd Stephen Platten said was an "all too familiar pattern".
"The state of emergency in Egypt following the carnage and increasing death toll of recent days is a matter of grave concern for those within and outside the region," he said.
"The heavy loss of life is deeply disturbing and points to the urgent need for resolution and restraint from government forces.
"Of equal concern are the reports that several churches across Egypt were attacked, including St Saviours Anglican church in Suez.
"These unprovoked attacks are part of an all too familiar pattern that we see repeated across the region where Christian and other minority communities find themselves as collateral casualties in a wider struggle between two increasingly illiberal and repressive forces."
Labour said there should be an urgent meeting of EU foreign ministers to examine removing aid from Egypt and called on Foreign Secretary William Hague to urge the US to suspend military assistance.
Diplomatic efforts had failed, shadow foreign secretary Douglas Alexander said, and the West needed to use "any lever" available to show that actions like yesterday's crackdown could not be tolerated.
Britain should also make clear directly to Cairo that emergency laws should be suspended and a fixed timetable set for a return to elections.
Washington has avoided labelling Mr Morsi's ousting a coup as that would automatically trigger the suspension of an almost £1 billion-a-year aid package - mainly military support - for Egypt.
Mr Alexander said that while the events "did constitute a coup", he understood why the US and the UK had been cautious as they sought to wield diplomatic influence over the new government.
"What we have seen in the last 24 hours confirms that that influence is not having the effect that is required," he told BBC Radio 4's The World At One.
"That's why there should be a convening of EU foreign ministers; that's why I believe it is right for the British Government to urge the Americans to suspend aid while their review is taken forward."
Asked if EU aid should be suspended, he said: "Any lever available to the West to make clear that there is not an approach of impunity towards the authorities in Egypt has to be taken now, given the appalling bloodshed that we witnessed yesterday."
Brotherhood spokesman Fareed El-Shayal claimed more than 3,000 were killed in the violence.
The figure was based on reports from volunteer doctors - "some of them representing the syndicate of medical professionals in Egypt" - who staffed several makeshift field hospitals, he told the programme.
"We have a good record of the names of the persons who have been massacred by the fascist regime of Egypt," he said.