Adam Gemili ran the second fastest 200 metres by a Briton as he smashed the 20-second barrier to qualify for the final at the Moscow World Championships.
Gemili, 19, roared past his personal best for the second time on Friday by clocking 19.98 seconds to win his semi-final at the Luzhniki Stadium.
His time was the fastest for a Briton since John Regis dipped below 20 seconds in 1994.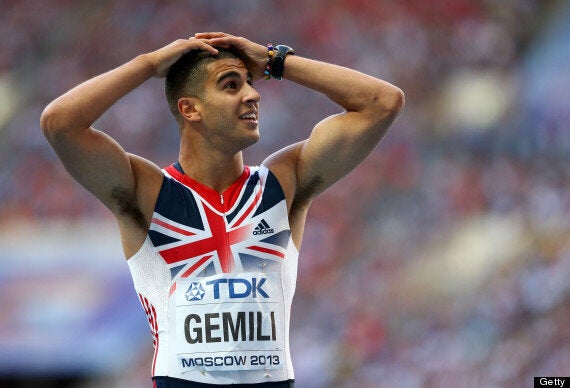 Gemili is overwhelmed by his feat
It catapulted Gemili into medal contention for tomorrow night's final as the second fastest qualifier behind Usain Bolt.
Only American Curtis Mitchell, who ran 19.97, went quicker than Gemili.
The teenager has now taken a staggering 0.32s off his previous best in 10 hours, having gone into the championships with a PB of 20.30 and lowered it to 20.17 in the heats.
It raises the exciting prospect of what he might be capable of in the final.
Gemili, who finished 0.02 ahead of Jamaica's 100m finalist Nickel Ashmeade, told BBC2: "I can't believe it. Honestly that is the best feeling in the world. Twenty seconds, to break that, I'm over the moon.
"I didn't realise it was me. I was looking across when I crossed the line and I didn't know if I had qualified.
"I made the final and I have run a PB and I am so grateful to so many people who I have to thank, but I still have to stay focused for the final tomorrow.
"Whatever happens now, I've put myself in amongst the best 200m guys in the world. I can't ask for more than that. It's crazy, I'm speechless."
Related