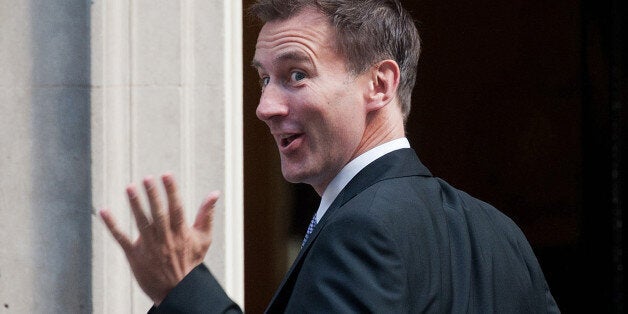 Jeremy Hunt could be in line for a £15 million windfall that would leave him at the top of the Cabinet rich list if the academic listings firm he founded is sold.
The health secretary's firm, Hotcourses, provides international listings for academic courses, is reportedly considering a possible sale for a potential value of around £30 million.
Hunt's ownership of 49% of the firm, which he founded in 1996, would leave him with around £15 million after a £30 million sale. The financial boost would propel Hunt's fortune, last year valued at £4.8 million, to nearly £20 million.
The sale would leave Hunt with a greater fortune than the prime minister, chancellor and defence secretary combined.
Last year, the cabinet 'rich list' was topped by Lord Stratchlyde at £9.5 million, who stood down earlier this year as the government's leader in the House of Lords, with Hammond behind him at £8.2 million, who drew his wealth largely from a stake in property firm Castlemead.
Chancellor George Osborne's wealth was estimated to be £4.5 million, with David Cameron on £3.8 million. The Cabient's combined wealth was estimated to be nearly £70 million, with 18 out of 29 ministers worth over a million.
Hunt's Hotcourses company is being advised by Ingenious Media on a potential sale and has already approached potential buyers including private equity firms, Education Investor reported.
Hotcourses bills itself as the world's largest course database, advertising over 700,000 courses and nearly 34,000 scholarships from around the world. Hunt started the firm after graduating and teaching in Japan, currently owning a 49% stake while his business patner Mike Elms has 43% of the business.
The firm made a pre-tax profit of £2 million last year, and would be expected to make a pre-tax profit of £4 million this year.