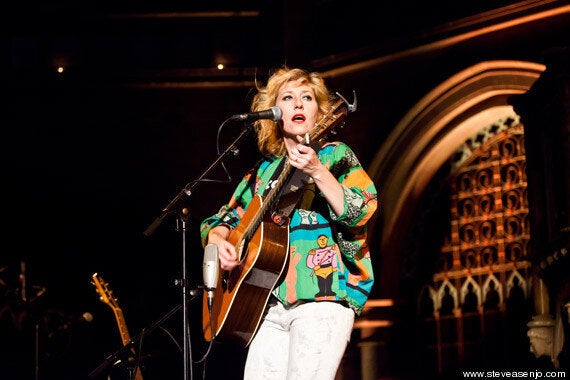 Martha Wainwright at the Union Chapel in London, Islington
The performance space of the Gothic, wooden-domed Union Chapel, its wooden pews sloping down to the stage erected around the pulpit, was lit by dozens of tea lights, their flames casting soft, flickering shadows and creating a magical ambience which was the perfect environment for Martha's show.
Martha's distinctive, throaty, passionate vocals and characteristic, knee-jerky dancing were all on display, but she remained as moving as ever, particularly during her performance of 'Proserpina', the last song written by her mother, Kate McGarrigle, shortly before she died in 2010. This beautiful song was full of sadness and longing, reflecting the dark, painful journey taken by Martha towards acceptance of her mother's death.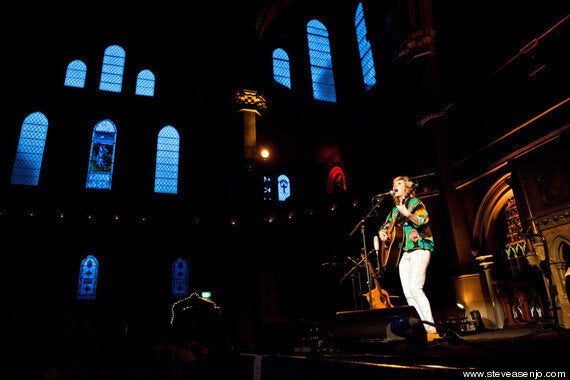 Kate McGarrigle's presence was strong throughout the show, but the evening was not only about loss. There was music and banter about Martha's life; jokes about her family and friends, poking fun at her brother, Rufus Wainwright, bemoaning her unruly hair and familial underbite with appealing self-depreciation. Later, her husband, Brad Albetta, and their 3-year-old son, Arcangelo, joined her on stage for a family performance of 'A Boire', followed by 'Stormy Weather'.
Martha Wainwright, self-deprecating but soulful in atmospheric surroundings. Videos: Courtesy Mike Watts/YouTube
It was an evening for Martha fans old and new alike. She performed new material from her recent album 'Come to Mama' and treated us to new renditions of old favourites such as 'I Know You're Married But I've Got Feelings Too' and 'This Life'.
By way of impressive encore, Martha sang a jaw-dropping acapella version of 'La Vie En Rose' and topped the evening off with her iconic song 'Bloody Motherfucking Asshole'. Mid-way through, a member of the audience shouted out "Bloody marvellous, Martha" much to everyone's amusement, including Martha. He was right though.