The Arsenal Supporters' Trust have said Arsène Wenger should not be offered a new contract.
Wenger, whose present deal expires in 2014, has emerged as a bone of contention among disillusioned supporters frustrated at the club's lack of success and inactivity in the transfer market.
Arsenal were beaten 3-1 at home by Aston Villa in their Premier League curtain-raiser, and the AST say it is "inappropriate" to reward Wenger with an extension.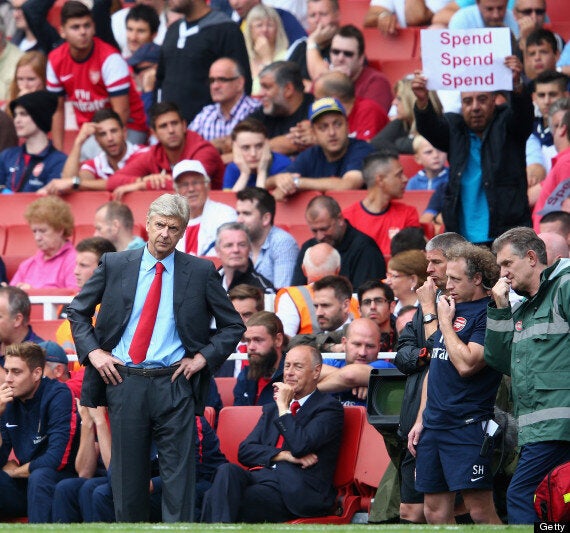 Wenger is under pressure from fans to strengthen the squad
"Chief executive Ivan Gazidis has spoken of the intent to offer Wenger a new contract. We believe this is inappropriate," an AST spokesperson said.
"A decision on whether to offer an extension to the manager's contract should only be taken following the closing of the transfer window and assessment of the team's performances."
Under Wenger, Arsenal have qualified for the Champions League the last 16 seasons but that has been offset by their eight-year trophy drought.
The 2005 FA Cup remains the last of the seven trophies the Gunners have won under Wenger, who arrived at the club from Grampus Eight in 1996.
An increasingly familiar chant at the Emirates Stadium, fans cried "Spend some f*****g money" during Saturday's defeat. Free transfer Yaya Sanogo remains the only new arrival in north London despite a reported cash balance of £154m.
"Ambitious football clubs invest the money they receive from their fans, and sometimes their owners, to make themselves stronger," added the AST.
"Arsenal supporters pay some of the highest ticket prices in world football, providing the club with considerable financial resources, but the ambition and ability to use them appear to be missing.
"The fact that there is money available for squad-strengthening is not disputed. The AST's independent analysis suggests that the amount is somewhere between £70m-£100m."
Arsenal travel to Istanbul on Wednesday to take on Fenerbahçe in the first leg of their Champions League play-off.