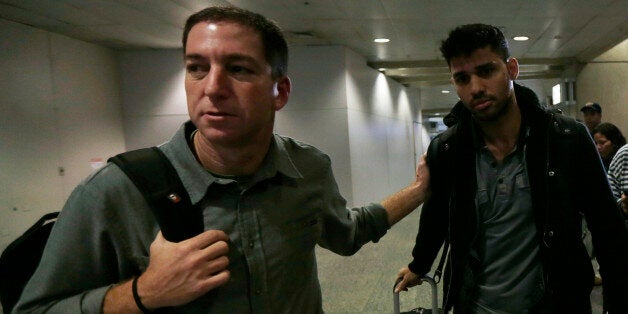 The partner of the the first journalist to interview American whistleblower Edward Snowden, has spoken of his nine-hour ordeal after being detained and quizzed by six agents on his "entire life" while travelling through Heathrow.
He was held by police under terror laws for nine hours - the legal limit before a suspect must be charged or released - and had all of his personal possessions confiscated, he revealed today.
"I remained in a room. There were six different agents coming and going," he said after finally arriving at Rio de Janeiro airport.
"They asked questions about my entire life, about everything," he added.
"They took my computer, video game, mobile phone, my memory card. Everything."
Miranda was questioned under schedule 7 of the Terrorism Act 2000 which applies only at airports, ports and border areas, allowing officers to stop, search, question and detain individuals.
Now, pressure is mounting on police to justify the detention of the 28-year-old.
Labour has called for an urgent investigation into the use of the powers to question Miranda, but police have still not said why he was held.
Speaking of the Snowden scandal, the Labour MP said it is clear "not only people who are directly involved are being sought but also the partners of those involved."
Brazil has also complained that Miranda's detention was "without justification".
The Home Office has said it is up to the police to decide when to use its powers to stop people.
A Downing Street spokesman said: "The government takes all necessary steps to protect the public from individuals who pose a threat to national security.
"Schedule 7 forms an essential part of the UK's border security arrangements. But it is for the police to decide when it is necessary and proportionate to use these powers."
Greenwald said the detention of his partner was akin to "bullying" and "a profound attack on press freedoms and the news gathering process".
"To detain my partner for a full nine hours while denying him a lawyer, and then seize large amounts of his possessions, is clearly intended to send a message of intimidation to those of us who have been reporting on the NSA and GCHQ.
"The actions of the UK pose a serious threat to journalists everywhere. But the last thing it will do is intimidate or deter us in any way from doing our job as journalists. Quite the contrary: it will only embolden us more to continue to report aggressively."
Related