Anonymous hackers behind the @OpLastResort Twitter account have hit back after the partner of the the first journalist to interview American whistleblower Edward Snowden was detained and quizzed by six agents on his "entire life" while travelling through Heathrow.
Anonymous are believed to have hacked UK sites after David Miranda, the partner of Glenn Greenwald – the journalist at the centre of revelations about US and British security services – was stopped on Sunday on his way home to Rio de Janeiro following a trip to Berlin.
In a lengthy ordeal, the journalist's partner was held by police under terror laws for nine hours - the legal limit before a suspect must be charged or released - and had all of his personal possessions confiscated.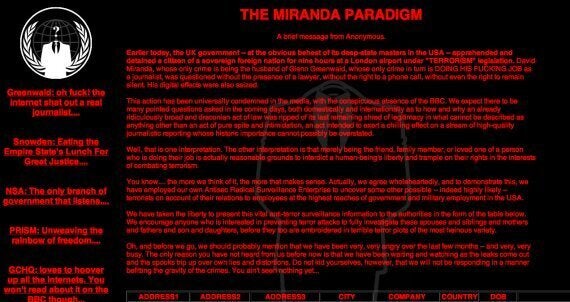 Anonymous hacked the website of the Mole Valley District Council
In retaliation, hackers thought to be responsible for a number of high-profile hacks against the US government, the Federal Reserve and financial institutions earlier this year, have accessed and leaked personal information of alleged US officials.
Declaring their outrage over the targeting of Greenwald's partner, Anons appeared to leak personal information of US military and diplomatic personnel along with their family members' details.
The hacked domain has since been taken down.
"We have been very, very angry over the last few months… and very, very busy," it read, concluding the statement by warning: "You ain't seen nothing yet."
"You know.... the more we think of it, the more that makes sense," Anonymous wrote on the website. "Actually, we agree wholeheartedly, and to demonstrate this, we have employed our own Antisec Radical Surveillance Enterprise to uncover some other possible -- indeed, highly likely -- terrorists on account of their relations to employees at the highest reaches of government and military employment in the USA."
The statement continued, "We have taken the liberty to present this vital anti-terror surveillance information to the authorities in the form of the table below. We encourage anyone who is interested in preventing terror attacks to fully investigate these spouses and siblings and mothers and fathers and son and daughters, before they too are embroidered [sic] in terrible terror plots of the most heinous variety."