'Shanice' will greet visitors to Brent Town Hall and give basic information on directions and which paperwork people need to fill in.
The council said: "Situated on the ground floor of the Civic Centre, Shanice sits behind a desk just like a real receptionist, but on closer inspection she's actually projected onto a see-through screen.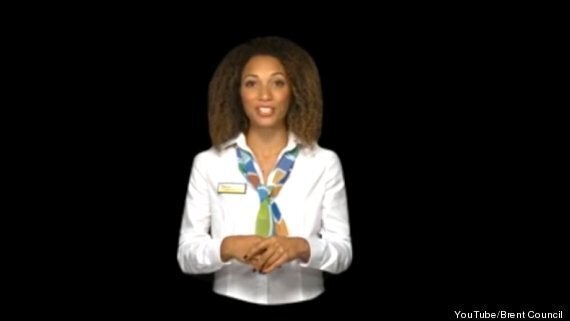 The receptionist is played by played by actress Shanice Stewart-Jones
The council has spent £12,000 on the technology which they claim is £5,000 less than the human equivalent but Shanice will only be able to answer a limited set of questions.
Opposition councillor, Lib Dem Alison Hopkins, told the Evening Standard: "This is a startlingly expensive way of solving the problem. Shanice can't respond even to basic questions but is limited to a small number of pre-recorded scripts.
"I hope she has been told one of the commonest questions is: 'Where are the toilets?'"
The technology, which requires guests to use a touch screen to tell Shanice the reason for their visit, is already used in airports.
Brent's Lead Member for Customers and Citizens, Cllr. James Denselow said: "This is the sort of space age technology you hear about but never really expect to see, especially in council buildings.
"The best thing is it's going to save us lots of money, without compromising our service. Nowadays we're constantly having to look at innovative ways to cut costs and they don't come more cutting edge than Shanice.
"I hope people come down and visit her the next time they're in the Civic Centre, she looks great and she's always very friendly."