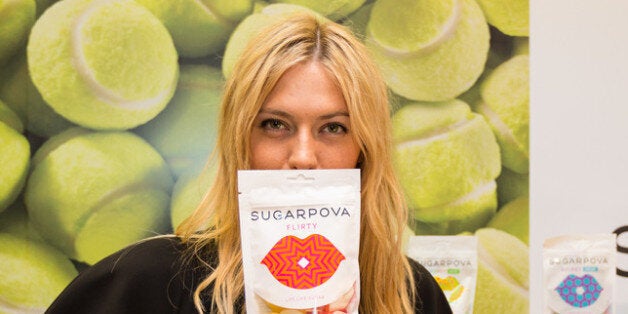 Four-time Grand Slam winner Maria Sharapova intends to change her name to "Sugarpova", in homage to her range of sweets, for the duration of the US Open.
The 26-year-old, the richest sportswoman in the world, has asked about a "quickie" name-change through Florida's Supreme Court, where she resides, and would revert back to Sharapova after the tournament.
According to the Times, Sharapova's management compan, IMG, believe there are no legal barriers to hurdle ahead of the final Slam of the year, which begins on Monday.
The Russian's Nike kit would also feature the Sugarpova logo in what many have dismissed as a cheap and cynical marketing move.
Sharapova, knocked out in the second-round at Wimbledon, last week sacked coach Jimmy Connors after one match in Cincinnati.
The 2004 Wimbledon champion founded Sugarpova with an estimated $500,000 of her own money. Marketed towards females, varieties include "flirty", "sassy" and "cheeky" and it is billed as "a premium candy line that reflects the fun, fashionable, sweet side" of Sharapova.
It is estimated 1.8m bags of the confection, which cost $5 a packet, were sold worldwide in 2012. Sharapova boasts outlets in Selfridges stores in London, Birmingham and Manchester.
In 2005, Jimmy White, the maverick British snooker player, changed his name to James Brown, as part of a madcap sponsorship deal with HP Sauce.