Directed by Adam Wingard and starring Sharni Vinson, Rob Moran, Barbara Crampton, Ti West and Amy Seimetz; 'You're Next' will be in cinemas across the UK from 28 August 2013.
HuffPostUK readers will have a special chance to watch the film ahead of release on Tuesday 27 August - see below...
You're Next' - a chilling warning scrawled in blood on a neighbour's wall, starts an evening of bloody mayhem for the Davison family.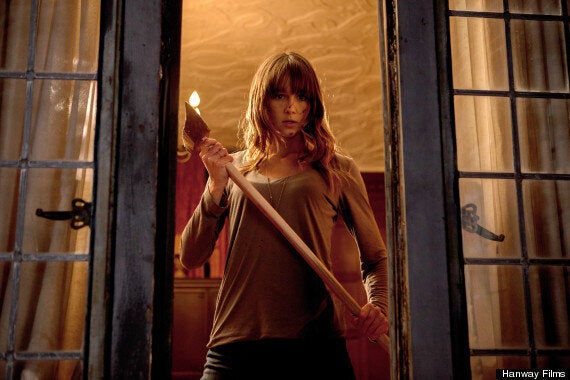 A lively reunion is abruptly brought to an end when a gang of mysterious killers, disguised in animal masks, wage an all-out assault on the Davison's secluded home. Using a series of sophisticated traps, axes, crossbows and machetes, the family are slaughtered one by one until nowhere is safe. But neither the attackers, nor their victims, have counted on Erin (Sharni Vinson, 'Step Up 3D'); an innocent girlfriend who has the killer instinct to fight back...
Director Adam Wingard and writer Simon Barrett (A Horrible Way to Die, V/H/S, V/H/S/2) are the talents behind what is already an acclaimed new horror, previously seen at Toronto Film Festival and SXSW.
'You're Next' also features Rob Moran and Barbara Crampton as parents Paul and Avery Davison. Amy Seimetz plays their prissy daughter Aimee and Joe Swanberg steals scenes as favourite son Drake. Aimee's artist boyfriend is played by horror movie director and actor Ti West.
To get tickets, simply click on the link here and choose your nearest cinema (NOTE: Certificate 18):
'You're Next' is in UK cinemas from 30 August 2013. Watch the trailer below...
Related