More than six million Britons are set to make overnight-stay trips at home and abroad over the bank holiday weekend.
With forecasters predicting hot and sunny weather at least in the South East of England, around 4.5 million people are planning to take holidays involving an overnight stay in the UK. Major roads and transport hubs are expected to see heavy use
And a further 1.8 million will be heading overseas at the weekend, according to travel organisation Abta.
Those staying at home will be able to take advantage of the lifting of some English roadworks on major routes, although restrictions will remain in place at some busy spots.
VisitEngland said the trips Britons are taking in their own country are likely to generate around £1 billion in tourism spending for the UK economy.
The organisation added that around 7.5 million are undecided about whether to take an overnight trip, with a number waiting to see what the weather is like. A further 6.5 million are considering day trips.
VisitEngland's strategy and development director Louise Stewart said: "July's heatwave saw an increase in late bookings and a real boost for the tourism industry after a harsh winter and slow spring."
For those staying at home the best of the weather is likely be in south east England, where temperatures could reach as high as 27C (81F) on Friday before dipping to around 22C (72F) for the rest of the long weekend. Other areas may get showers or longer periods of rain.
Motoring and traffic organisations forecast that Friday will be the busiest day on the roads, with the AA reckoning as many as 16 million drivers will be out over the holiday period.
Abta said Spain remains the number one destination for British holidaymakers, particularly the Balearic and Canary Islands. The Spanish city of Barcelona is also proving popular for a bank holiday city break.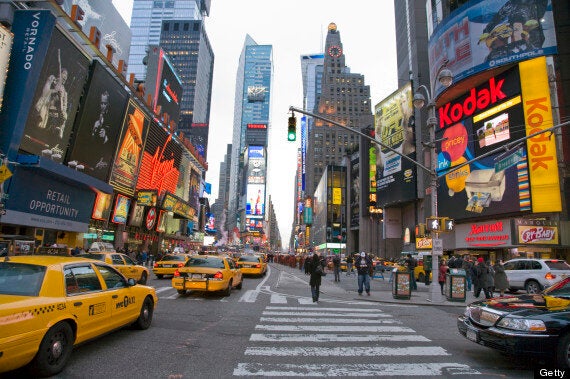 Many Britons will be taking overseas city breaks
Other top destinations include France, the Greek Islands and Turkey, while top city-break destinations include Amsterdam, Paris, Berlin, Dublin and New York.
Abta said domestic tour operators are seeing demand in south coast and south west resorts in England as well as the Channel Islands.
In south east England, around 425,000 passengers are expected to depart from Heathrow Airport, 255,000 from Gatwick, 125,000 from Stansted, 70,000 from Luton and 15,000 from Southend.
In addition, 160,000 are due to depart from Manchester, 69,000 from Birmingham, 35,000 from Newcastle, 47,000 from Bristol and 30,000 from Leeds Bradford. More than 160,000 will also be leaving from Scottish airports and 60,000 will travel with cross-Channel high-speed train company Eurostar.
Abta chief executive Mark Tanzer said: "The bank holiday weekend is always one of the busiest of the year as we see holidaymakers jetting off to enjoy the end of their summer breaks. The return of the good weather here in the UK will also provide another boost for domestic tourism."
On the railways, passengers will have to contend with engineering work on some routes, with major work going on at Nottingham station involving a new platform, new sections of track and new signalling.
All routes to and from Nottingham will be affected, with buses replacing trains between Derby and Nottingham.
Other routes affected by engineering work over the weekend include Finsbury Park in north London to Potters Bar in Hertfordshire, York to Thirsk, Swindon to Gloucester, Shrewsbury to Wrexham General and Perry Bar to Rugeley Trent Valley in the West Midlands.
Train companies said they were gearing up for an increase in passenger journeys of up to 30% to some parts of the country over the weekend.
A spokesman for the Association of Train Operating Companies said: "We're expecting thousands of families to pack their buckets and spades and beach towels, and head off on the train to visit Britain's seaside resorts."