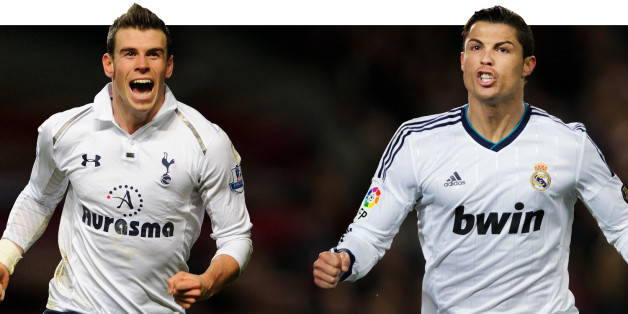 Getty
Gareth Bale lit up an envious Old Trafford on his Tottenham debut at Manchester United in August 2007. The 18-year-old had rejected the Premier League champions in the summer, concerned at the competition on the left-hand side after Sir Alex Ferguson bought Nani to vie with Ryan Giggs on the wing, while Patrice Evra had eased off any lingering threat from Mikäel Silvestre at left-back.
Spurs had lost two of their first three games of the campaign and Martin Jol would be sacked less than two months later but the Dutchman, unlike Juande Ramos and Harry Redknapp, immediately knew Bale was more Giggs than Denis Irwin. Bale joined Spurs as a left-back and his free-kick prowess at Southampton had seen him predictably touted as similar to United's dependable defender, only he boasted too much flare and adventurousness to be restricted to a limited role.
United, yet to win any of their opening three games, were fortunate to beat Tottenham. Robbie Keane pinged the crossbar, Spurs' Dimitar Berbatov had an effort cleared off the line by Nemanja Vidić and was inches away from an outrageous equaliser, while Wes Brown was fortunate not to concede a penalty. Nani was credited with the winner - even though it deflected off Carlos Tévez. Bale enjoyed an auspicious debut at Old Trafford in 2007
But it was impossible to ignore how vibrant a debut Bale's was. Despite its moribund atmosphere, debutants are often overawed by the scale of Old Trafford but Bale wasn't. Giggs, beginning the worst season of his United career, was substituted to cackles of, "You're just a s**t Gareth Bale" from Spurs fans.
Cristiano Ronaldo was on the sidelines, serving the second of a three-match suspension for headbutting Portsmouth's Stephen Hughes earlier that month. Ultimately, Bale only started once against Ronaldo in his United days - an unmemorable 2009 fourth-round FA Cup tie Spurs seemed keen to lose - but has done his utmost to fill the void the Portuguese left in the Premier League four years ago.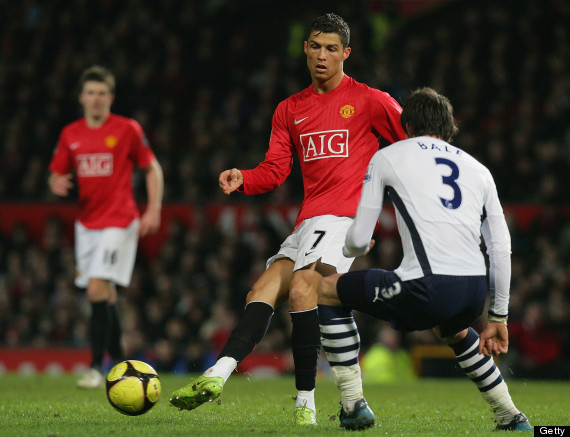 Bale started just once against Ronaldo
Prior to his world record transfer, Bale had been taking Spanish lessons and as early as this year asked his entourage if they would be happy to work in Spain. In January, Bale promised one of his social media team a free "Bale 11" Real Madrid shirt and assured them they could stay with him and go for dinner with Ronaldo.
There are unavoidable parallels between the Bale and Madrid's No.7. Like Ronaldo, Bale is moving to Real aged 24 and for a world record fee and like Ronaldo, he was twice voted Player of the Year in England. That's where the similarities seemingly end, but the Welshman can barely conceal his fixation with the Portuguese.
One newspaper frivolously compared Bale's look to Ronaldo's this week, only it's been a working progress for some time. Bale now copies Ronaldo's free-kick motif when he used to bend it like Beckham, boasts a carved side-parting rather than the student scruffiness style and, like Neymar with Lionel Messi, is just happy to wear the same shirt as Ronaldo. Bale seems as eerily intent on resembling his icon as Los Angeles starlets were mimicking the Black Dahlia in the 1940s.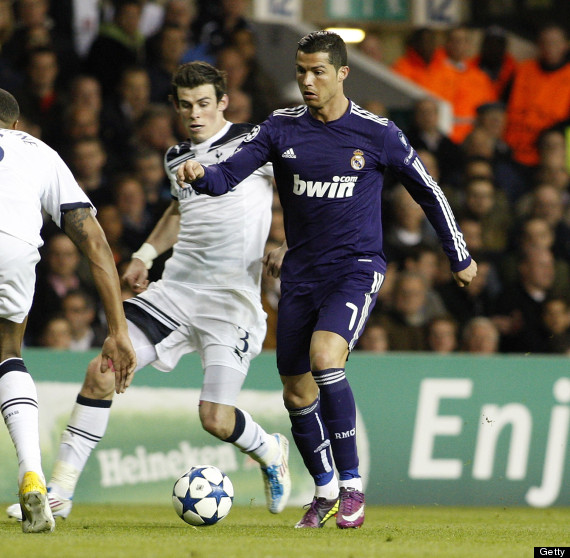 Bale and Ronaldo tussle for the ball during Madrid's win at Spurs in 2011
Through his own will , Bale has been mentioned in the same breath as Ronaldo when he doesn't deserve to be yet. Madrid have unfathomably overspent on a player who has had one great season, but are experienced enough to know they have also bought a new brand.
Bale has become so increasingly image-conscious over the last year he has had his ears pinned back in a bid to fend off those simian jibes and has successfully trademarked his cringing love heart celebration. Ronaldo had dental work in 2005 to cure his goofy grin and has opened his boutiques.
Unlike Ronaldo, Bale's fashion has a tendency to look uncool and as Messi has discovered to his detriment, God-given ability is not always complemented by God-given looks.