My favourite hour of the week, 'The Great British Bake Off' Episode 2, and it was all about bread.
Now, this is Paul Hollywood's specialist area, which meant there was an extra special gleam in his eye as he surveyed the contestants' efforts to create the perfect breadstick.
Unfortunately-timed script aside - throwaways like "Paul's passion" and "I'll be all over them like a rash" bearing in mind this was filmed before he gained tabloid status as the Wandering Apron - Hollywood's expertise was plain to see, as he all but steered contestants on everything from toughening up the dough in the fridge, to checking it against the light for gluten strands. It was an education, for those amongst us (*coughs*) who didn't realise they came in anything other than Carluccio's flavour.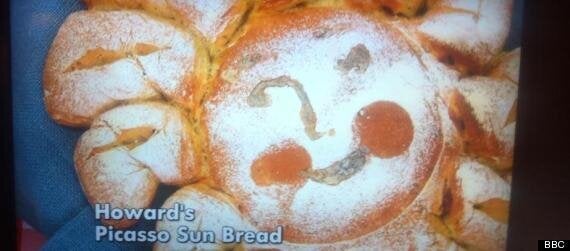 Howard's Picasso Sun Bread
I was pleased to see my fave, Birmingham Ali, triumph over his bready fears, after he'd admitted, "I know what I'm doing, just not why I'm doing it."
There was more proof this week of how crucial Mel and Sue are to proceedings. There was an unexplained disaster when Howard's muffins weren't looking their best. Because he'd over-cooked? Under-kneaded? No, because there was a great elbow-shaped dent in one of them, courtesy of Sue's leaning. She looked horrified. Can you imagine Simon Cowell getting this involved (although I do believe he came into contact with some eggs once upon a time)? It's a different world.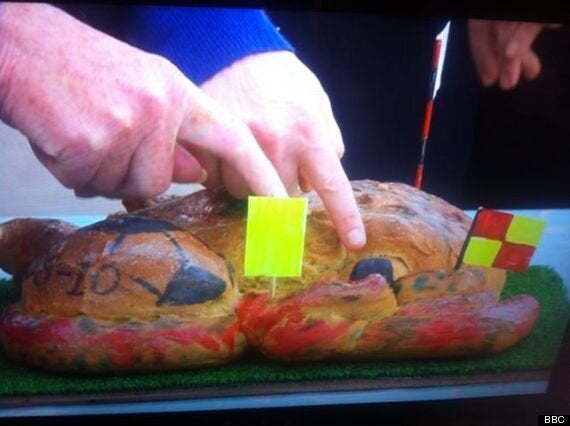 Rob's Paul the Psychic Octupus Tribute Loaf... as you do
As is customary, it came down to the show-stopper, in this case a decorative loaf. Mary Berry hoped "personality would come through" and, by golly, it did, with a mind-bogglingly impressive variety of plaits, tentacles, tomatoes and ... footballs??... making their way into the oven. It was both properly inspiring, and beyond any hope of replication in this house.
I had the pleasure of tasting one of contestant Lucy Bellamy's actual real-life cakes earlier in the week, so I was sad to see her go after her grissini grumbles and muffin mishaps. But really there was no arguing with her humble tomato and garlic cob, when it was up against the Masters, quite literally in the case of a Picasso Sun Bread, which Howard had the good sense to keep well away from Sue's floury limbs.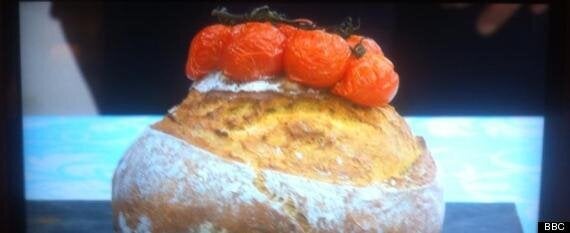 My sneaky off-screen munching means I can also vouch for the high standards across the board, but the baker's bar in the tent is obviously set very high, with Paul the Psychic Octopus possibly the only cephalopod in town who can say with any certainty who's staying and who's going.