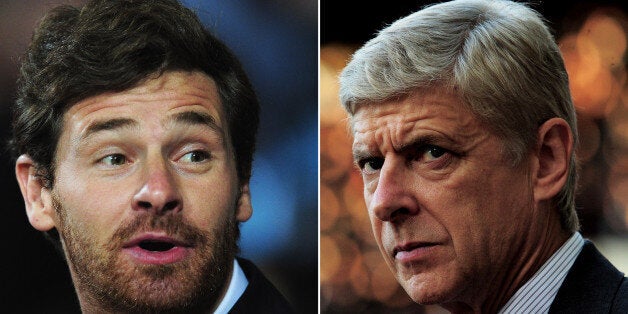 Barely two months after he was confirmed as Harry Redknapp's successor, André Villas-Boas threatened to resign as Tottenham coach. They had lost one and drawn two from their opening three fixtures, but results were not the issue. Villas-Boas felt he had an incomplete squad and though Spurs scrambled to finalise deals close to, or on, deadline day and brought in Hugo Lloris, they failed to bring in João Moutinho.
Villas-Boas had come to realise how maddening it was working for chairman Daniel Levy rather than against him. The previous year, he was Chelsea coach when the Blues sought to prise Luka Modrić away from White Hart Lane, but Levy wouldn't budge and the Croat was sold to Real Madrid a season later, ironically when Villas-Boas was manager.
Levy's personal gain has hindered Spurs' efforts to consolidate their 2010 status as a top four team. In the 2011 January window, Redknapp bid for Blackpool's Charlie Adam and Everton captain Phil Neville. The following year, he brought in Louis Saha and Ryan Nelsen for a tuppence. Their attitude since that memorable 1-0 victory at Eastlands in May 2010 has not been befitting of Champions League aspirants.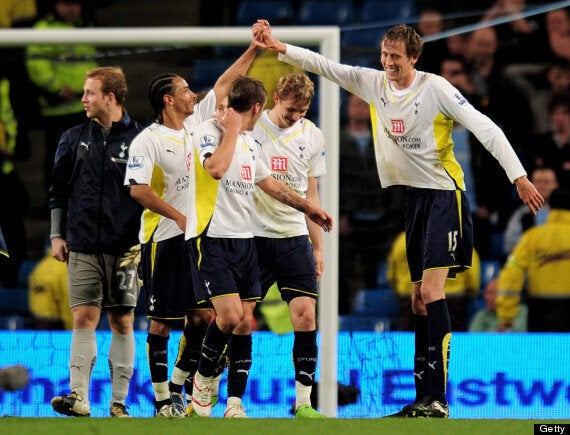 Spurs did not capitalise on their fourth-placed finish in 2010
In Villas-Boas they have a young, ambitious manager who is fuelled by failure at Stamford Bridge. He won three trophies in one season at Porto and watched on in the background as Chelsea reaped the benefits of José Mourinho's first spell in charge. Nelsens and Sahas just won't do.
Under Villas-Boas, Tottenham have signed international first-teamers, technically-sound young Europeans and a seasoned Primera Liga goalscorer. Due to the progress Spurs made under the Portuguese last year, Levy has finally relented and unlocked the purse strings in a bid to propel the club back into the Champions League stratosphere. Belatedly, Tottenham are a truly competitive side again.
Thrice this summer they have broken their transfer record now Erik Lamela has signed. As stultifying as the Gareth Bale soap opera is, Spurs have handled it well. They will sell him for a grossly inflated fee having brought in quality players and will likely further reinforce their impressive squad ahead of Monday's deadline. Usually, when a club loses its star asset, it doesn't take a step forward, but Tottenham have already offset Bale's imminent departure with some striking signings and are finally getting serious now Levy has put the club first.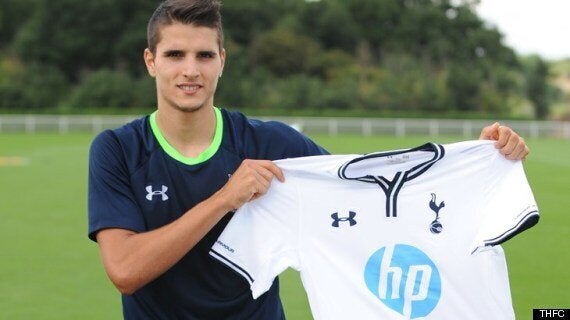 Erik Lamela is Tottenham's record signing
Arsenal have not finished below their north London neighbours since 1995. Their side two seasons ago was arguably the worst in 20 years and yet they overturned a 10-point deficit to usurp Tottenham and end up in third. Champions League elimination has kick-started their domestic campaign in the last two years and Spurs, haunted by the bottle job in 2006, have wilted under Redknapp and Villas-Boas stewardship.
But while Villas-Boas drives Spurs forward Arsène Wenger continues to hold Arsenal back. There is no excuse for not bolstering a squad as underwhelming and unthreatening as Arsenal's when there is at least £70 million to spend. The Gunners' squad is smaller than on the final day of last term when they booked their Champions League ticket at Newcastle and the return of Mathieu Flamini is beyond parody.
Realistically, the squad needs five new players just to maintain Champions League standards. Robin van Persie has still not been properly replaced, the midfield lacks genuine steel, the central defence is too slow and the goalkeeping situation has been a bugbear for the best part of a decade.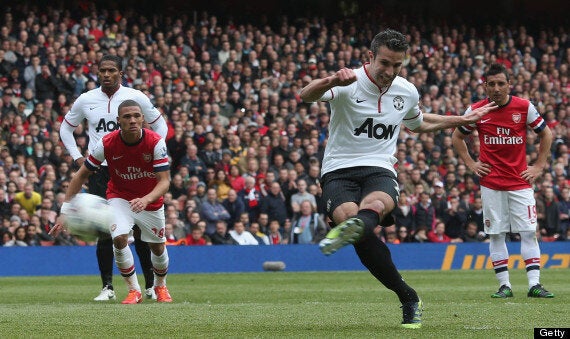 Van Persie was in inspired form for Arsenal in 2011-12
So starved of success have Arsenal been over the last eight years their annual achievement now is finishing ahead of Spurs. To illustrate the clubs' convergence, in the last campaign Arsenal won a trophy they finished a mammoth 31 points ahead of the Lilywhites.
Tottenham have already won the battle, if not the war, by reducing Gooners to that level. They also relish reminding them they have lifted more silverware since Patrick Vieira's final kick of a ball earned Arsenal the 2005 FA Cup.
Had Emmanuel Adebayor not played like Chev Chelios at the Emirates Stadium last year Tottenham were well poised to beat Arsenal. Spurs began that match superbly and Adebayor's opener on 10 minutes was already overdue. Arsenal fans were sitting uncomfortably even when their team were 4-2 up, as Gareth Bale threatened to spark a repeat of the unforgettable 4-4 in 2008. Villas-Boas was understandably upbeat at the end, despite the 5-2 loss.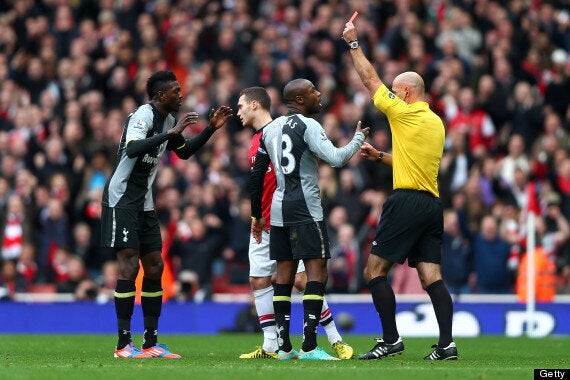 Adebayor was a liability at Arsenal last year
Tottenham's record versus Arsenal in the league used to be dire, but they have won three and drawn two of the last five league games at White Hart Lane while the recent 5-2 reverses at the Emirates have flattered the hosts.
Last year, Spurs fans bemoaned the club missing out on players but this time it's Arsenal's turn. The tide's finally turning.