If we could, we'd eat brunch for breakfast, lunch, dinner, afternoon tea and our midnight snack.
To put it simply, we love brunch in all its forms - eggs Benedict, a greasy fry-up, yoghurt and muesli - you name it, it'll be sure to make our tummies rumble.
ADAM GRAY'S SMOKED BACON HASH WITH A FRIED DUCK EGG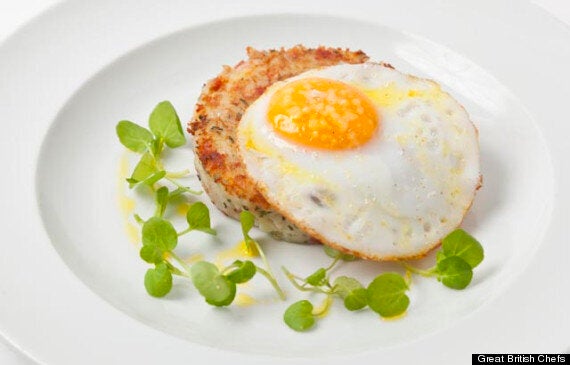 For the smoked bacon hash:
350g of smoked streaky bacon
2 tsp of sage, finely chopped
1 dollop of tomato ketchup
Cooking time – 1 hour 20 minutes + chilling time
1. Preheat the oven to 200°C/Gas Mark 6
2. Use a fork to prick the potatoes all over. Place them directly onto the oven shelf and bake for around an hour until they are slightly undercooked
3. At the same time, grill/fry the bacon rashers until they are cooked and roughly chop them
4. Finely chop the sage and shallots. In a frying pan, heat some rapeseed oil and gently cook the shallots and sage. Cook until the shallots have softened but not browned
5. Peel and grate the potatoes into a mixing bowl while they are still hot. Hold them in a clean tea towel to prevent burnt fingers
6. Add the shallot and sage mix to the potatoes, along with the cooked bacon. Mix well and season with ground white pepper only
7. Split the mixture into 4 portions and shape as you wish. Chill on a small plate/tray for at least 30 minutes
8. Heat a non-stick frying pan over medium heat and add some rapeseed oil. Fry the hash cakes until they're golden brown on both sides. Remove them from the pan and keep warm
9. Heat some more rapeseed oil in the pan. Add some butter and fry the duck eggs as per your taste
10. Place a smoked bacon hash cake in the middle of each plate and top with a fried duck egg. Serve along with some tomato and apple chutney, or tomato ketchup
ADAM BENNETT'S HAPPY FACE EGG WITH CRISPY ASPARAGUS SOLDIERS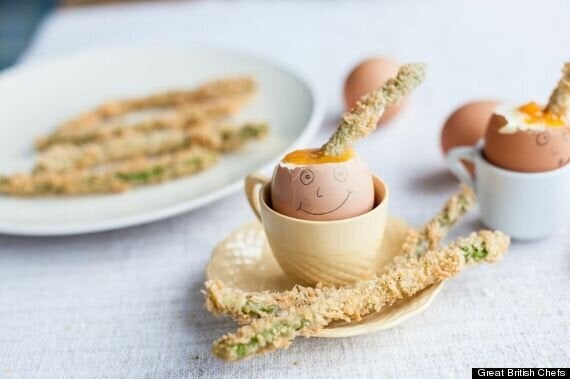 16 asparagus spears, trimmed and washed
Serves 6 Cooking Time: 1 hour 30 minutes plus proving time
1. Salt a pan of water and bring it to the boil. Blanch the asparagus for 1 minute and then plunge into iced water for 1 minute. Drain on some kitchen towel.
2. Set out 3 bowls for crumbing. Add flour to the first, 2 beaten eggs to the second and breadcrumbs to the third
3. Roll each asparagus spear in the flour, then the egg and finally the breadcrumbs until evenly coated
4. Heat a deep-fat fryer to 180°C. While it heats, draw faces on the eggs in pencil/non-toxic pen
5. If you don't have a deep-fat fryer, pour sunflower or walnut oil into a large pan up to a third full. When the oil reaches 180ºC (or a cube of white bread browns after 40 seconds) it's ready to use. Remember to take care; hot oil can be very dangerous.
6. Bring a pan of water to the boil. Gently place the eggs in the boiling water and cook for around 3 1/2 minutes for soft boiled, 6-7 minutes for hard boiled
7. In the meantime, fry the asparagus (do this in 2 batches of 8) for 2-3 minutes, until golden brown and crispy. Drain well on kitchen towel and season with salt
8. Put the eggs in egg cups, take off the tops and serve with the crispy asparagus soldiers.
SHAUN RANKIN'S GRILLED SARDINES ON TOASTED FOCCACIA BREAD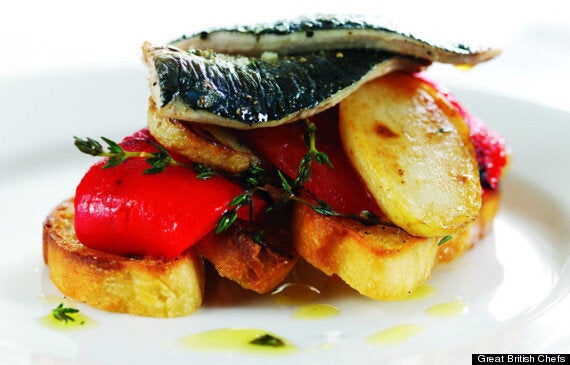 Roasted peppers and fondant potatoes
225g of Jersey Royal potatoes
1 red pepper, halved and deseeded
1 yellow pepper, halved and deseeded
1. Preheat the oven to 180°C/Gas mark 4 and heat a roasting tray
2. Add the Jersey Royals, rosemary, thyme and whole garlic cloves to the hot tray. Sprinkle with olive oil and roast in the oven for approximately 25-30 minutes. At about 15 minutes, place the red and yellow peppers in the tray, skin-side up
3. In the meantime, put the sardine fillets on a tray skin-side up. Massage the fillets with olive oil, softened butter and some lemon juice. Season with salt and pepper and leave until required
4. Take the roasting tray out of the oven. Put the hot peppers in a heatproof bag and close. When they're cool enough to touch, remove the skin and cut into thick strips
5. Heat the grill and place the sardines under for approximately 7 minutes until firm and their skins are golden
6. When the sardines are under the grill, cut the foccacia, cover both sides in olive oil and put underneath the grill until crispy and golden brown. This will take about a minute each side
7. Position one or two portions of foccacia on a plate, accompany with the roasted Jersey Royals and roasted peppers and put the grilled sardines on top. Finish with a fistful of rocket.
SHAUN HILL'S CHARD AND DILL PANCAKES WITH SMOKED SALMON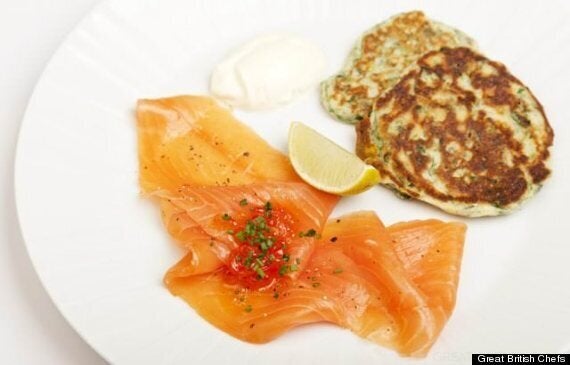 110g of self-raising flour
50g of unsalted butter, melted
200g of smoked salmon slices
4 handfuls of chopped chives
1. Remove the chard from the stem and cook in salted boiling water for 3 minutes. Drain the chard and revive in ice cold water for 5 minutes. Squeeze dry and thinly chop, ensuring the pieces can be easily folded into the pancake batter.
2. To make the pancakes, combine the flour, baking powder, whole egg, melted butter, half a tbsp of salt, dill and milk and whisk to form a smooth batter, and ten add the finely chopped chard. Using another bowl beat the egg white to form medium peaks and then lightly fold in the batter.
3. Warm a little olive oil in a non-stick pan over a medium heat. Pour 2 tbsp of batter to make one pancake and flip once golden. Cook each pancake for 2 minutes on each side
4. Serve the pancakes warm to complement the smoked salmon, along with crème fraiche, chives and the juice and zest of a lemon.
NATHAN OUTLAW'S CRAB, CHEDDAR AND CHIVE OMELETTE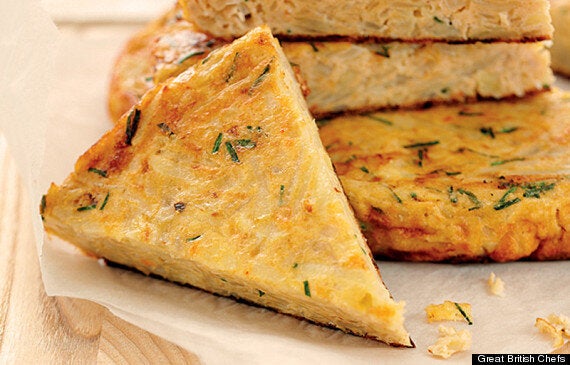 1 medium onion, finely chopped
200g of waxy potato, peeled and finely sliced or grated
50g of brown crab meat, optional
100g of cheddar cheese, grated
mixed salad leaves, to plate
Cooking time – 25 minutes
1. Begin by heating 2 tbsp of rapeseed oil in a high-sided pan. Add the chopped onion and sliced potatoes once the pan is hot
2. Stir the potatoes and onion until they begin to soften. At the same time, break the eggs into a small bowl and lightly whisk
3. Once the vegetables in the pan have softened, put them into a large bowl and leave to cool. Add the eggs, crab meat, grated cheddar and chives, and add the salt and pepper to taste
4. Add 2 tbsp of rapeseed oil to the frying pan and heat. Once hot, add the mixture and turn the heat down as low as possible
5. Draw the edge of the omelette gently inwards using a spatula, at regular intervals. Flip over and cook on the other side for 2 minutes when there is almost no liquid egg left on the surface
6. Switch off the heat and leave to rest for 5 minutes. The omelette should be moist in the centre but cooked through. Cut into wedges and serve hot or cold with a mixed leaf salad
MARCUS WAREING'S PORRIDGE WITH MAPLE BANANAS AND GREEK YOGHURT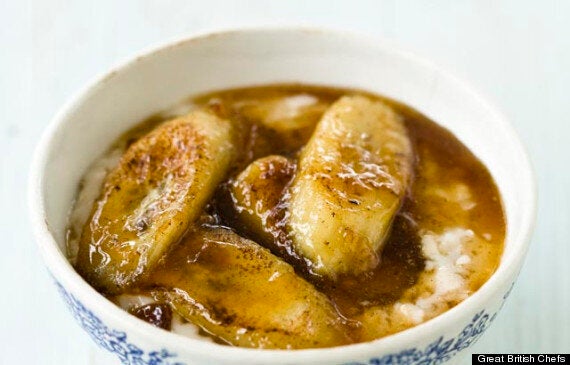 250ml of semi skimmed milk
1 tbsp of unsalted butter
2 bananas, each cut into 6 slices
300g of Greek yoghurt, to serve
Preparation time 30 minutes
1. Put the porridge and rolled oats, cinnamon, milk, salt and water in a medium-sized saucepan over a low to moderate heat. Stir for 5 to 10 minutes
2. Heat the butter in a medium-sized frying pan over a high heat, add the sliced bananas and brown them slightly on each side
3. Add the maple syrup to the bananas and then remove immediately from the heat
4. When the oats are cooked and have soaked up almost all of the liquid, divide the porridge between four serving bowls
5. Place three slices of banana and a large spoonful of Greek yoghurt on each
Recipes courtesy of Great British Chefs. For more brunch recipes see here