Curves are offering five readers a three month membership at their local Curves club. Prize includes one free fitness assessment and induction per consumer.
The world's leader in women's fitness, Curves offers a workout specifically created for women – so there's not a man or mirror in sight! It's simple, fun and you'll see amazing results. Do the Curves 30-minute workout just three times a week and burn up to 500 calories a session through a proven program of strength training, cardio and stretching. It's the perfect way to lose inches, tone up, get fit and meet new friends.
With over 18 years of experience, the Curves training concept has helped millions of women worldwide to get fit and healthy. This form of low impact training offers a complete body workout via a circuit of specially designed resistance machines to work every major muscle group without putting strain on joints. With a dedicated circuit coach working alongside you to teach and motivate, you're sure to get the shape you desire in no time.
Curves provides a refreshing alternative to traditional health clubs, allowing you to get into shape in an non-intimidating, friendly and sociable environment. Many clubs also offer the unique electronic personal training system CurvesSmart™, and the infectiously fun Curves® Circuit with Zumba Fitness®. Curves offers a complete fitness solution so there couldn't be a better way to kick-start a healthy new year.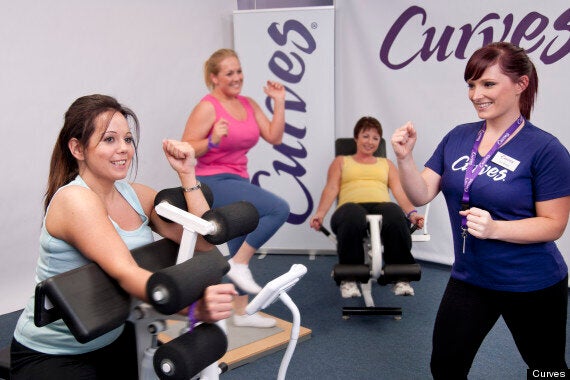 By entering this prize promotion, you accept and agree to be bound by the following terms and conditions:
The prize promotion is open to all UK residents (including Northern Ireland) aged 18 years or over except employees (and their families) of AOL (UK) Limited, Curves, and any affiliates or subsidiary companies, as well as representatives or agents of AOL and anyone else who may be involved or connected with the prize promotion. Any entries submitted by agents or third parties will be invalid and will not be accepted by the Promoter.
There will be five winners. The prizes are non-transferable and non-refundable and there are no cash alternatives.
The prize - a 3 month membership at the winner's local Curves club for 5 winners including one free fitness assessment and induction per consumer - will be issued by Curves, (the "Prize Provider"). By entering this prize promotion, you agree that if you are selected as a winner, AOL (UK) Limited may pass the data submitted on your entry email to the Prize Provider who will issue you with your prize.
The prize promotion closing date is midnight 6 September 2013 (the "Closing Date") and any entries received after the Closing Date will not be accepted by the Promoter.
The winning entries will be selected at random on 6 September 2013 and the winners will be notified via email within five days. To contact you we will use the contact details supplied by you when entering the prize promotion.
If you are notified of a winning entry, you must confirm acceptance by both telephone and email to claim your prize. If you do not reply to confirm acceptance within 5 days of being notified as a winner, we may offer your prize to someone else
Only one entry per person is permitted. And the offer is open to women aged 16 years and above.
Submission of entries will not constitute proof of receipt and no responsibility will be accepted by the Promoter for entries or acceptances which the Promoter does not receive. The Promoter shall not be liable for any loss or corruption of data in transit. No responsibility will be accepted for entries or acceptances which are lost, delayed or damaged in the post or elsewhere. Illegible, incomplete, late or defaced entries will be disqualified.
The prizes must be taken as offered. No cash equivalent or other alternative prizes are available in whole or in part except as provided for in these terms and conditions.
All prizes are non-transferable and where prizes consist of tickets to events, all such tickets are non-refundable. The Promoter reserves the right to substitute prizes of an equivalent value should the prize(s) become unavailable for any reason. If any winner is not able for whatever reason to accept the prizes, then the Promoter reserves the right to award the prizes to another participant.
A list of winners' names and locations can be obtained by sending a SAE to the Promoter after the day that it closes.
The winners agree to participate in any publicity or other such promotional activities which the Promoter may reasonably require in connection with the prize promotion and the Promoter shall have the right to use each winner's name, likeness, image, voice and biographical information for advertising and promotional purposes in connection with the prize promotion in all media without further notice and without the need to make any payment to any winner for such use.
The decision of the Promoter is final and binding and no correspondence will be entered into regarding the outcome of the prize promotion.
Promoter: AOL (UK) Limited, Shropshire House, 11-20 Capper St, London, WC1E 6JA.
16. Offer available to current non-members only and cannot be used in conjunction with any other offer
17. Curves Europe and its franchisees accept no responsibility for any harm incurred in a Curves club or while undertaking a Curves programme
18. Prize Provider: Curves