Over 12,500 'Dirty Dancing' fans dressed up in their finest 1960's American holiday garb to show their love for the iconic eighties film at an outdoor film event this weekend.
Future Cinema, who last year provided an outlet for dedicated 'Grease' fans in a similar way, turned Hackney Downs Park in East London into Kellerman's summer camp, complete with heartthrob Johnny Castle's wooden cabin, the 'staff quarters' and that dancefloor.
The mainly female guests at the live cinema event arrived carrying beach balls and suitcases in an array of costumes, including Baby's famous pink dance dress, hula outfits, denim shorts and tied-up white shirts, as they came to relive the love affair of Jennifer Grey and Patrick Swayze in the flick.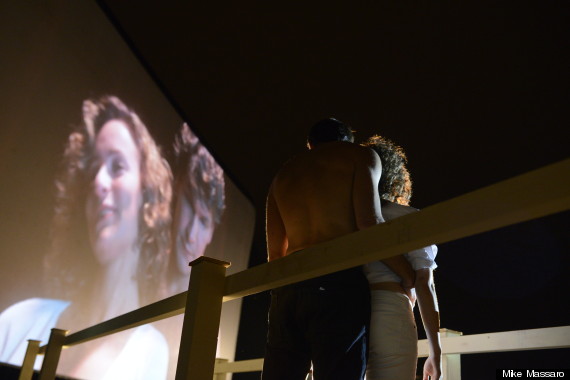 Dancers performed as the film was shown
Famous lines from the film were played out over the tannoy in faux American accents, such as "guests are not allowed in the staff quarters", while sports such as baseball, volleyball and archery were offered up for fun.
Despite being able to see Hackney's grey tower blocks in the background, 'Dirty Dancing' devotees could still get swept up in the atmosphere, thanks to the smell of candy floss, hotdogs and popcorn wafting through the venue.
As the sun went down and 'Dirty Dancing' began to be projected on the large outdoor screen, several women became crazed, screaming at Johnny shirtless and shouting out famous lines like "I carried a watermelon".
There were mass sing-a-longs and mass dance-a-longs to the soundtrack with the boldest even attempting 'the lift' from the finale, as Baby and Johnny danced to 'The Time of My Life'.
Check out some of the pictures from the event below...