Such was the hunger for nostalgia when 'The Big Reunion' brought six 1990s bands back together, that one climactic gig at Hammersmith soon became a sell-out tour of the UK, playing to 100,000 people in 14 cities. "Everyone's feeling the love," declaimed resident Maharishi, Abz Love (musings also available on Celebrity Big Brother on C5). The result is 'Big Reunion On Tour' as a starter snack before another series kicks off in a few weeks.
Abz suffered a bit of a set-back on his mission to share the love with the masses, as he made his way from Lincoln to the studio for rehearsals with his 5ive bandmates. "I'm waving at people, why don't they wave back anymore?" he wailed.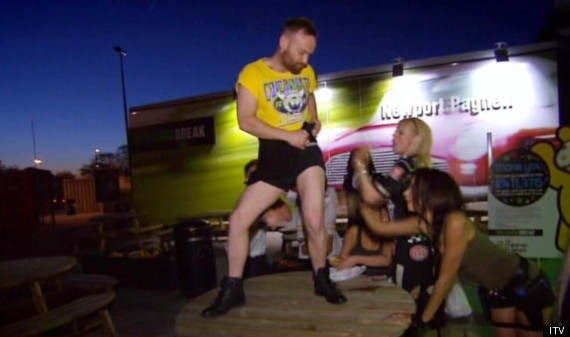 The Big Reunion made for a big party on the road, before they'd even got to their first gig
This was a metaphor for the biggest harsh discovery by all of the bands - that preparing for a tour isn't the big, effortless cuddle it used to be. The Honeyz lost their material, B*witched's lead singer Edele lost her voice (some payback karma for stage-hogging in a previous life? Overshadowed twin Keavy could hardly contain her excitement), and 911 lost it with their errant arrhythmic bandmate Lee, or 'Lee "F*** All" Brennan', to give him his proper epithet.
So far the real hero of the piece is choreographer Paul, whose impatience for a bunch of ex pop stars knows no bounds. "Can I remind you it's been a long time?" says Honeyz. "Can I remind you we've got three weeks?" he replies. Not quite the levels of adoration this lot are used to.
Despite this, the best stuff, of course, was the personal dynamics between the bands, and between their own members. A sore Kitten Liz spent her time avoiding her ex-fiance Blue's Lee Ryan, who couldn't understand what he'd done, by simply mentioning (to a national newspaper) that the fittest one of the Kittens was actually Tash. "I just meant she doesn't look like the weather's aged her that much," he squealed with a shrug. Well, that's all right then. Women, eh?
But the biggest ooh-ah moment of the show came with the return to centre-stage of 5ive's estranged frontman Jason 'J' Brown, whom avid fans will remember came in for a bit of bad press when the rest of his bandmates laid bare their souls in the first series.
'J', who had refused to join his 5ive bandmates for the reunion, now decided the time was right to speak. Has he got a record coming out, perchance? Nope, he was just "literally" open-mouthed by the stuff he'd heard about him, mostly from little weepy Sean. A reaction he helpfully demonstrated, on national television, along with "turning to the wall" and "quite literally" not believing what he'd heard.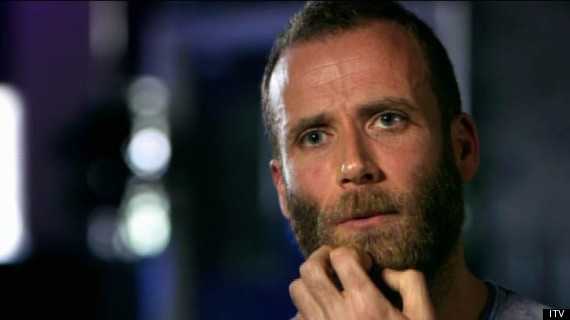 J found what his bandmates had to say about him "jaw-dropping, quite literally"
Because it turns out Abz isn't the only deep thinker in town, with J explaining how his world had become a better place once he'd discovered the powers of meditation.
The absolute best part of this debut episode - and I mean that, even with the sight of Kerry Katona dressed as Elvis, the Vegas Years - was the "clandestine meeting" (miked up, cameras, notwithstanding) between J and Abz, where Abz put Jay on his psychiatrist's couch.
"You was under the same pressures, man," Abz decreed, as well as "a load of emotional blockages that just need to be acupunctured out", apparently.
Failing that, time for a bro-hug, or in Abz-speak, "give me some sugar, man".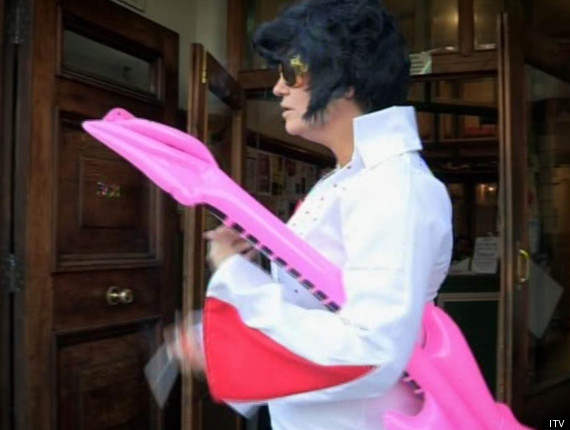 Kerry channels the King
A script-writer wouldn't dare pen those words – this is reality TV at its best. 26 ex-popstars crammed onto a bus, drinking their way into oblivion - it's like Geordie Shore, or TOWIE, but with pop and a bit of purpose.