'EastEnders' have given us a first look at Barbara Windsor's return to the soap as matriarch Peggy Mitchell.
The actress revealed she was making a one-off comeback to the BBC One soap earlier this year, after she quit the series back in 2010.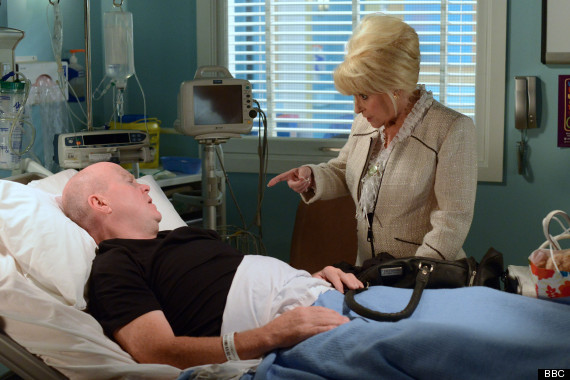 Peggy's return storyline sees her called by by nephew Billy Mitchell (Perry Fenwick) following her son Phil's (Steve McFadden) horrific car crash.
In scenes that are reminiscent of her first appearance back in 1994, Peggy pays a visit to Phil's hospital bedside.
When she lays eyes on her son she is upset to see the state he is in, but she wastes no time in telling Phil that he needs to pull himself together.
Phil is reluctant to listen to Peggy but she points out that his family need him. Feeling her job is done, she goes to leave but he is quick to tell his mum that he does still need her.
While Peggy is only making a comeback for one episode, Barbara has admitted she is tempted by a full-time return to the soap.
She told The Sun: "Of course it has tempted me but who knows what the future holds? To be a part of such a great British institution is an honour."
She added: "Steve (McFadden, who plays Phil) was the reason I had no hesitation in returning to the show for this storyline. It's no secret how close we are in our personal life. My admiration for him as an actor is way up there with the best."
Peggy's comeback scenes air on 20 September on BBC One.
LIKE US ON FACEBOOK | FOLLOW US ON TWITTER