If Miley Cyrus has been causing eyebrows to raise with her on-stage antics recently, she's reminded us what her day job is, with this powerful video for her next single 'Wrecking Ball'.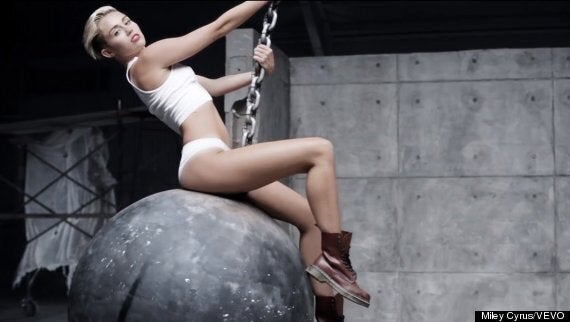 Dressed in her uniform of underwear - at least until it all falls off a third of the way through the song - Miley is nonetheless adopting a far more mournful, reflective tone than we've seen from her of late, in a song she told a recent UK group of press she hoped would appeal to her young female fans who'd had their hearts broken.
"It's a ballad for every girl to cry to," she explained. "We've all been there."
'Wrecking Ball', she told the crowd that day, was a ballad, written originally on a piano, when Miley was living in Philadelphia, and then given what she called "a big pop sound" by producer Dr Luke.
If the video, directed by Terry Robinson, is anything to go by, Miley doesn't seem too fazed by the furore surrounding her recent VMA Awards performance. Tastefully shot, the 'Wrecking Ball' video shows the young starlet in no rush to hide her light under a bushel.
WATCH Miley in action above - is she all hype, no talent, or is the former Disney star proving her detractors wrong? Let us know what you think...
Popular in the Community