To celebrate British Cheese Week, the British Cheese Board have given us some great recipes that fit in perfectly with the chillier nights. Tweet us your finished creations!
British Brie and Roasted Vegetable Pie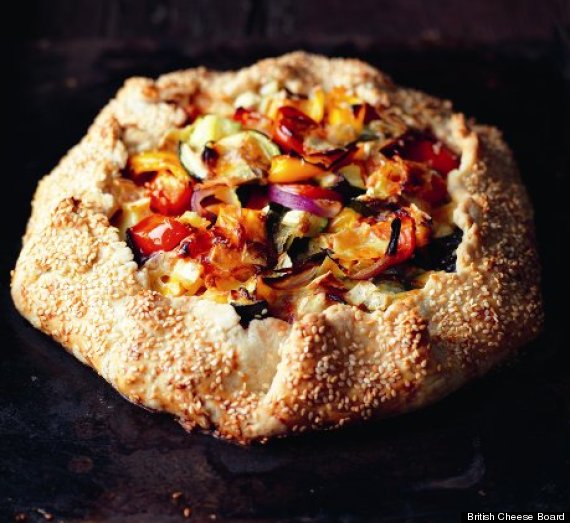 A crumbly cheese pastry encases roasted vegetables in this easy-to-make free-form tart. Just be sure to check the label first when purchasing the ingredients, to check that the brie you're buying is British!
Serves 4
Preparation time: 20 minutes
Cooking time: 45 minutes
Calories per serving: 580
Fat per serving: 36.75g
1 courgette, sliced
1 yellow and 1 red pepper, deseeded and thickly sliced
8 cherry tomatoes
1 small red or white onion, sliced
1 tbsp olive oil
100g (4oz) British Brie, cut into chunks
2 tsp sesame seeds
Pastry:
200g (7oz) plain flour
Pinch salt
75g (3oz) white vegetable fat, chilled and cut into pieces
50g (2oz) mature Cheddar cheese, grated
1 egg, beaten
1. Preheat the oven to 200°C / fan 180°C / Gas Mark 6. Put the vegetables into a roasting pan, sprinkle with the olive oil and toss to mix. Roast for 20 minutes. Cool.
2. Meanwhile, make the pastry. Put the flour and salt into a large bowl. Rub in the vegetable fat until the mixture looks like crumbs. Stir in the Cheddar, then add 2 tbsp of beaten egg and just enough chilled water to make a soft, but not sticky, dough. Knead lightly until smooth, then wrap and chill for 10 minutes.
3. Roll out the pastry on a lightly floured surface into a 30cm (12in) circle. Transfer to a baking sheet (the pastry may overlap the sheet at this stage). Brush the pastry with beaten egg.
4. Pile the vegetables onto the pastry, leaving a border of about 7.5cm (3in) around the edge. Sprinkle the Brie on top. Fold the pastry edge over the vegetables, overlapping and sealing it to make a free-form tart. Brush the pastry with beaten egg and sprinkle with sesame seeds.
5. Bake for about 25 minutes, until the pastry is crisp and golden. Serve warm or cold.
Cook's tips: Make the pastry in a food processor to save time.
Roast Butternut Squash with Caerphilly, Barley and Bacon Stuffing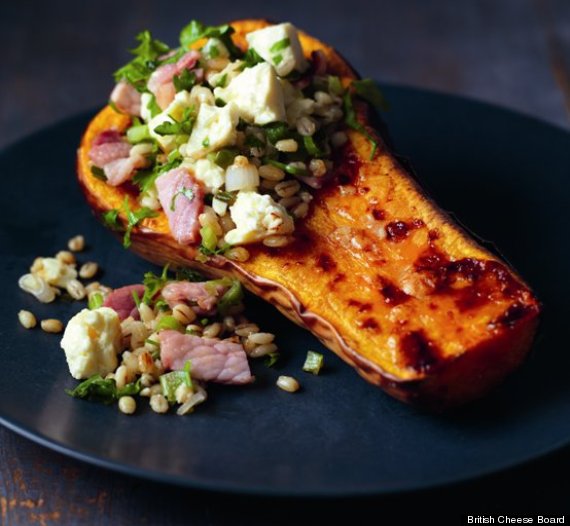 Butternut squash is such a versatile vegetable! Enjoy it roasted - stuffed with a delicious filling including your favourite British cheese.
Serves 4
Preparation time: 15 minutes
Cooking time: 50 minutes
Calories per serving: 270
Fat per serving: 14.45g
2 medium butternut squash, halved lengthways and deseeded
4 tsp olive oil
100g (4oz) pearl barley
900ml (1 ½ pints) vegetable stock
4 rashers lean smoked back bacon, chopped
1 onion, chopped
1 garlic clove, crushed
2 tbsp chopped fresh parsley
100g (4oz) Caerphilly or Cheshire cheese, chopped
4 small bunches cherry tomatoes on the vine
Freshly ground black pepper
1 Preheat the oven to 200°C / fan oven 180°C / Gas Mark 6. Put the butternut squash into a roasting tin, cut sides up. Brush with 2 tsp olive oil. Roast for 35-40 minutes, until tender.
2 At the same time, simmer the pearl barley in the vegetable stock for 30-35 minutes, until swollen and tender.
3 Ten minutes before the pearl barley is cooked, heat the remaining oil in a frying pan and cook the bacon for a few minutes until crisp. Add the onion and garlic and cook for another 5-8 minutes. Drain the barley, then stir in the bacon mixture with the parsley and cheese. Season.
4 Remove the squash from the oven and fill with the barley mixture. Top with the cherry tomato bunches. Return to the oven for a further 8-10 minutes, then serve.
Cook's tip: Try using cooked rice instead of barley - you'll need 350g (12oz) cooked weight.
Ham, Leek and Lancashire Bread & Butter Pudding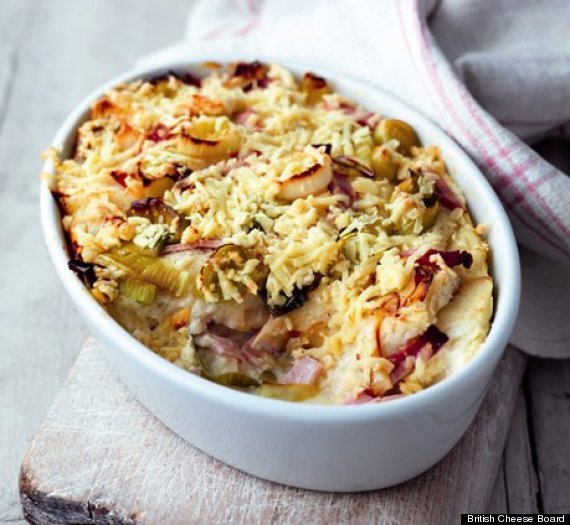 For an easy, economical midweek meal, you can't beat this savoury bread and butter pudding.
Serves 4
Preparation time: 20 minutes, plus 20 minutes standing
Cooking time: 35 minutes
Calories per serving: 482
Fat per serving: 26g
25g (1oz) butter
1 large leek, thinly sliced
6 thin slices white bread from a large loaf
75g (3oz) cooked ham, chopped
150g (6oz) Lancashire cheese, grated or crumbled
3 eggs, beaten
600ml (1 pint) milk
Freshly ground black pepper
1. Grease a 1.2 litre (2 pint) baking dish with a little butter. Melt the remaining butter in a frying pan and gently fry the leek for 4-5 minutes.
2. Cut the bread into triangles, then layer half in the base of the baking dish. Scatter half the leeks and all the ham on top, then sprinkle with half the Lancashire cheese. Arrange the remaining bread triangles over the surface.
3. Beat the eggs and milk together. Season. Pour evenly over the bread, then scatter the rest of the leeks on top. Sprinkle with the remaining cheese. Cover and leave to stand for 20 minutes.
4. Meanwhile, preheat the oven to 190°C / Fan Oven 170°C / Gas Mark 5. Remove the cover from the pudding and bake for 30-35 minutes, until puffed-up and golden brown. Serve.
Cooks tip: Try using up slightly stale bread, as its drier texture soaks up more moisture.
Further recipes can be found on the website at www.britishcheese.com