Cape Verde have missed out on the chance to qualify for the World Cup after being stripped of their win over Tunisia for fielding an ineligible player.
Defender Fernando Varela appeared in the 2-0 win in Rades, in the final game of stage two of African qualifying, having failed to complete a four-match suspension following his red card in a previous qualifier against Equatorial Guinea in March.
Cape Verde finished top of Group B with 12 points to Tunisia's 11, with last Saturday's defeat prompting the resignation of Tunisia coach Nabil Maaloul, who labelled the performance "totally hopeless".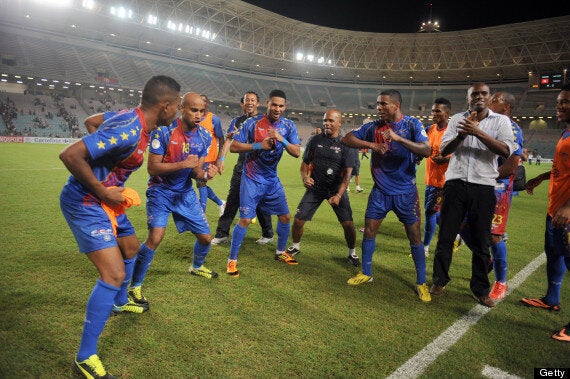 Cape Verde's players celebrate after their qualification against Tunisia on Sunday
A return for Maaloul thus appears unlikely even after the match was awarded 3-0 in his former team's favour, lifting them ahead with 14 points to Cape Verde's nine.
A FIFA statement read: "The FCF has also received a fine of 6,000 Swiss francs (£4,000) after the FIFA Disciplinary Committee considered the FCF liable for having breached art. 55 par. 1 of the FIFA disciplinary code and art. 8 of the 2014 FIFA World Cup Brazil regulations."
Varela was dismissed for "unsporting conduct towards a match official" during the Equatorial Guinea game - which coincidentally was awarded 3-0 to Cape Verde after their opponents fielded an ineligible player, midfielder Emilio Nsue. Equatorial Guinea initially "won" the game 4-3.