GTA 5 is here - finally. After years of speculation, then anticipation and then finally vomiting in excitement Grand Theft Auto 5 is just about on the shelves, in the hands of mail-order delivery men and the hands of small French children.
The Xbox 360 and PS3 open-world crime, driving, murder and redemption simulator was widely expected to be a landmark game.
The world-island of Los Santos is bigger than everything Rockstar has ever made combined - and the variety of missions, activities and side-games is frankly ridiculous.
Everything points to a game which has defined its generation - just as the next generation is around the corner.
But what does the gaming press think? Specialist websites have already gotten their hands on the game and given it a thorough going-over. Here's the best of their criticism so far: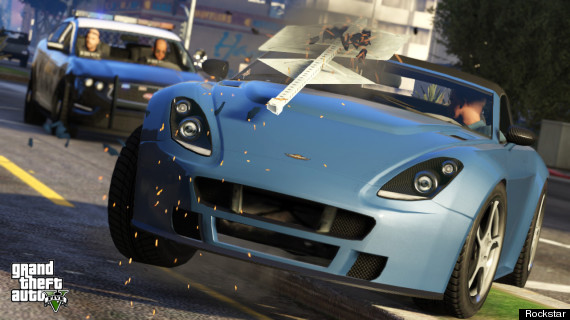 Edge: "No one makes worlds like Rockstar"

"No one makes worlds like Rockstar, but at last it has produced one without compromise. Everything works. It has mechanics good enough to anchor games of their own, and a story that is not only what GTA has always wanted to tell but also fits the way people have always played it. It's a remarkable achievement, a peerless marriage of world design, storytelling and mechanics that pushes these ageing consoles to the limit and makes it all look easy. As we stand on the brink of a new generation, GTAV sends an intimidating message to the rest of the industry. Beat that."
IGN: "Grand in every sense"

"Grand Theft Auto V is not only a preposterously enjoyable video game, but also an intelligent and sharp-tongued satire of contemporary America. It represents a refinement of everything that GTA IV brought to the table five years ago. It's technically more accomplished in every conceivable way, but it's also tremendously ambitious in its own right.

No other world in video games comes close to this in size or scope, and there is sharp intelligence behind its sense of humour and gift for mayhem. It tells a compelling, unpredictable, and provocative story without ever letting it get in the way of your own self-directed adventures through San Andreas."
Eurogamer: "the best of the series"
9/10
"Most importantly, though, it's the first game in the series where you feel as though you can strike out in any direction and find something entertaining to do. You can wander onto a golf course and find yourself in a reasonable facsimile of a Tiger Woods game, enhanced after every shot by Michael swearing and banging his club on the fairway. … GTA5 may not be the Hollywood-beating crime story it wants to be, then, but it's the best video game it's ever been, and I'll take that."
The Verge: "A wild ride through a crazy world"

"GTA V [is] the best game in the series to date, though it's the narrative that really stands out, especially in comparison to the rest of the franchise. I wanted to see what would happen to Trevor, Michael, and Franklin more than I wanted to try jumping a motorcycle onto a moving train — and I really wanted to trying landing that jump. In the past, GTA games have given you an exciting world to explore but little reason to push through the actual story. GTA V does both"
Mirror: "stick a fork in this generation - it's done"

"For once, it's safe to believe the hype: as we stand on the cusp of a new era in console gaming, GTA V isn't just the greatest entry in one of its great series, it's also one of the entire medium's most accomplished and amazing achievements to date. Stick a fork in this generation: it's done."
T3: "gleefully misanthropic"

"Grand Theft Auto 5 is a lot like its forebears in how it unblinkingly satirises American culture and perhaps the extreme nature of where the States are at present simply makes Rockstar's piss-take seem more dystopian than ever. You know you're in trouble when Weasel News on GTA sounds almost like an actual Fox News broadcast.

GTA 5 is gleefully misanthropic, but it's also a hell of a lot of fun to play and it's a staggering technical achievement to boot. It's easily one of 2013's essential titles and one of the best games released all year. And there's still GTA Online to look forward to…"
NowGamer: "a world you'll want to explore"
9.5/10
"Driving, flying, shooting and even walking are now smoother than ever, enabling you to do exactly as you want instead of struggling around corners or climbing to your feet.

GTA 5 is one of the best open world games this generation, with a level of quality that few – if any – developers could ever hope to match. It's GTA as we know it, and what that really means is that it's a place to escape to.

Los Santos is GTA 5: it's a world you want to explore, you want to exist in, you want to experience. There's more to Los Santos than meets the eye, and you'll gladly put in the hours to see it all."
Polygon: "Golden years"
9.5/10
'Rockstar has expanded and improved upon so much of what's special about video games as mainstream spectacles, from the playful use of characters to the refined take on world design. The developer's progress makes the aspects of the game left in cultural stasis — the poorly drawn women, the empty cynicism, the unnecessarily excessive cruelty — especially agitating.

It's fitting that the game arrives at the cusp of the next generation of consoles. Grand Theft Auto 5 is the closure of this generation, and the benchmark for the next. Here is a game caught occasionally for the worst, but overwhelmingly for the better, between the present and the future."
CVG: "Sprawling, thrilling, and beautiful"

"Part of Grand Theft Auto V's magic is discovery, and enjoying the thrilling, unpredictable ride the story takes you on. Whether you're in the thick of a bank heist or exploring the wilderness listening to Johnny Cash on the country station, it always feels tight, refined, and polished. The world is breathtaking, the script is funny, the music is superb (both the licensed tracks and the atmospheric original score), and, most of all, it's really, really fun."
Digital Spy: "An open-world environment like no other"

"Only time will tell whether it's enough to win over the GTA naysayers, but Rockstar North has clearly listened to criticisms of past games and delivered what's as close to the perfect sandbox as technologically possible. The hallmarks of the GTA series are all present, from the way the story is structured, to the explosive set pieces, use of stereotypes and humorous observations. ... it's certainly a new high for a series that has grown in confidence with each new instalment."
Metro: "nowhere near as good as people thought - it's better"

"Anyone worried that the game world is too small, because it only contains one city, can instantly forget that problem, as even right near the end of the game we were driving through huge sections we'd never even seen before. The one area where GTA V does disappoint though is the storytelling. It's always had a problem with a lack of likeable characters and despite this time having three playable anti-heroes it's still an issue."
Telegraph: "It's brilliant, of course."

"Grand Theft Auto V is still an extraordinary technical achievement and a fabulous piece of entertainment. I'm not sure every aspect is an unqualified success, and its violent bitterness can be a little wearying, but this is a bold and scintillating full-stop to an explosive generation of video games. It dares the rest of the blockbuster industry to try and match its scope and, even with new consoles on the horizon, it may be some time before anything steps up."
Gamespot: "an outrageous, exhilarating, sometimes troubling crime epic"
9/10
"Each character has his own contacts and his own missions, and because the characters have such different vibes, the freedom to switch between them at will makes the game feel more multifaceted than it would otherwise. There's a terrific contrast between the urban lives of Michael and Franklin and Trevor's existence in a poor, secluded town in the desert."
Stuff: "One of the greatest games of all time"

"Grand Theft Auto 5 aims ridiculously high and despite those ethical missteps manages to deliver on all of its towering ambitions. It's a game that pushes the boundaries not only of what's possible in open world games, but what's possible on the current generation of consoles. In GTA 5, the incredibly detailed world, compelling characters and varied missions combine to create an experience that will live on in your memory long after you've finished playing - and we expect you'll be playing for a long, long time."
And here are the rest: