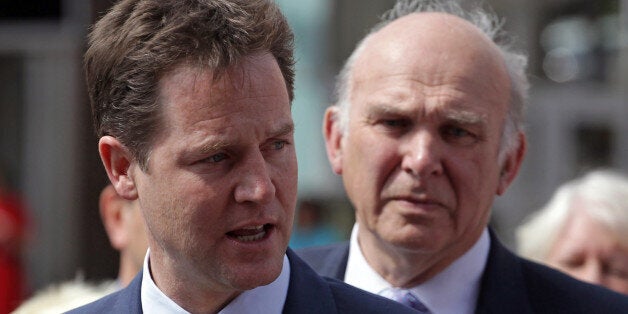 The five things you need to know on Monday 16 September 2013..
Nick Clegg has played down suggestions of a split with Vince Cable over economic policy, as he appeals for Liberal Democrat activists' support on the key issue.
The deputy prime minister said he was "leading from the front" by taking the unusual step of speaking in a debate on a motion at the party's conference in Glasgow and he said there was "strong agreement" between him and Cable on the issue. He added this morning: "It's a bit of a storm in a teacup. Vince and I have been working hand in glove for the last three years. We're all at one."
However according to The Guardian, Cable's aides said he will stay away from the debate as today's vote is being seen as test of Clegg's authority over the party.
The business secretary is also due to give his own speech on the economy at the conference today. And Clegg told BBC Radio 4's Today programme it was not up to him to force Cable to attend the economy debate. "I don't run a boot camp, I don't have to tell people when to turn up to a meeting," he said.
Sticking with the Lib Dem conference, , Home Office minister Jeremy Browne has triggered a debate on whether the government should consider banning Muslim girls and young women from wearing the veil in public places. Browne said "instinctively uneasy" about restricting religious freedoms but said there may be a case to act to protect girls who were too young to decide for themselves whether they wished to wear the veil or not.
Tory backbencher Dr Sarah Wollaston, said the veils were "deeply offensive" and were "making women invisible" and called for the niqab to be banned in schools and colleges.
Writing for the Daily Telegraph, she said: "It would be a perverse distortion of freedom if we knowingly allowed the restriction of communication in the very schools and colleges which should be equipping girls with skills for the modern world. We must not abandon our cultural belief that women should fully and equally participate in society."
3) SEXUAL HARASSMENT 'AN ISSUE'
In the wake of the allegations against former Lib Dem chief executive Lord Rennard, the party's conference has heard the issue is still being "brushed under the carpet". The Daily Telegraph reports one activist told the gathering yesterday sexual harassment was an issue for the party.
She said: "Specifically, but without mentioning any names, this is an issue not just happening in headquarters, but in the regions and in the local parties."
Another activist told a fringe meeting: "When I am introduced to older males in the party they do that thing where they hug you… A few times people's hands are on your lower back and do 'the slip'. That is not very pleasant."
Benefit cheats are to face increased prison sentences of up to 10 years under new guidelines set out by the director of public prosecutions.
According to the BBC: Keir Starmer QC said it was time for a 'tough stance' on benefit and tax credit fraud, as he issued the guidance for prosecutors in England and Wales. He said the £1.9bn annual cost of the crime to the nation should always be at the 'forefront of lawyers' minds. It was a myth "getting one over" on the system was a victimless crime, he said."
Former U.S. Treasury Secretary Larry Summers has removed his name from consideration for Federal Reserve chair.The Huffington Post reports Summers notified President Barack Obama on Sunday via phone call, and sent a letter shortly after.
"I have reluctantly concluded that any possible confirmation process for me would be acrimonious and would not serve the interest of the Federal Reserve, the Administration or, ultimately, the interests of the nation's ongoing economic recovery," Summers said in the letter.
@reporterboy: Nick Clegg "Vince and I work hand in glove" .... and if not, certainly fist in face... he thought darkly
@ShippersUnbound: Vince Cable was outvoted 55 to 2 on economic policy at Lib Dem MPs' meeting @bbcnickrobinson says
@iainmartin1: It is just *so* exciting! There's a row! In the Lib Dems! Between Clegg and Cable about the economy!
Chris Huhne in The Guardian: What Nick Clegg can learn from François Mitterrand
Boris Johnson in The Daily Telegraph: Condescending Lord Clegg, the invincible loser of British politics
Jason Beattie in the Daily Mirror: Lib Dems conference: Don't mention the polls or past crimes
Got something you want to share? Please send any stories/tips/quotes/pix/plugs/gossip to Mehdi Hasan (mehdi.hasan@huffingtonpost.com) or Ned Simons (ned.simons@huffingtonpost.com). You can also follow us on Twitter: @mehdirhasan, @nedsimons and @huffpostukpol