The two prototype Liberator firearms were successfully fired by Cody Wilson of Texas-based Defence Distributed earlier this year.
He then put the blueprints online for anyone to download sparking an impassioned debate about gun ownership in the fast-evolving world of 3D printers.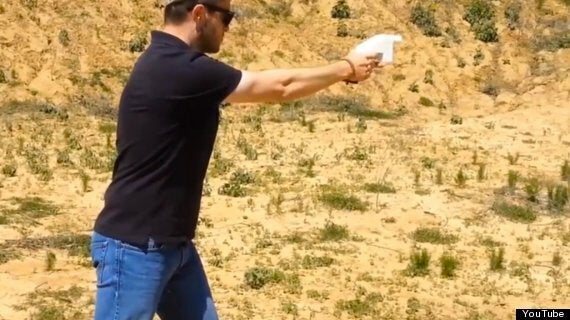 The gun was printed with an off-the-shelf 3D printer
In a statement the V&A said: "The invention of this so called 'wiki weapon' sparked intense debate and upended discussions about the benefits of new manufacturing technologies and the unregulated sharing of designs online."
Since the Liberator was fired a Canadian has successfully tested a rifle version called the Grizzly.
Lawmakers in America have scrambled to keep up with the emerging technology.
There is concern the lack of metal parts in the weapons makes them easy to smuggle through metal detectors.
Kieran Long, the V&A's senior curator of contemporary architecture, design and digital, told Dezeen: "Ugly and sinister objects demand the museum's attention just as much as beautiful and beneficial ones do.
"Museums should be topical, responding quickly to world events when they touch our areas of expertise."
The guns are part of five contemporary design projects acquired by the museum including a series of vessels made of natural polymers.
They are on display now until the 22nd of September.