Laura Linney returns in 'The Big C', in her Golden Globe-winning role of a suburban wife and mother, Cathy Jamison, whose life is forever changed when she's diagnosed with stage-four melanoma. With her cancer now in remission, Cathy considers making drastic life changes, including assuming a secret identity and adopting a baby.
With the third season now available on DVD, Linney tells HuffPostUK about the importance of the role, how her childhood provided her with all the research she needed and the "honesty of death"...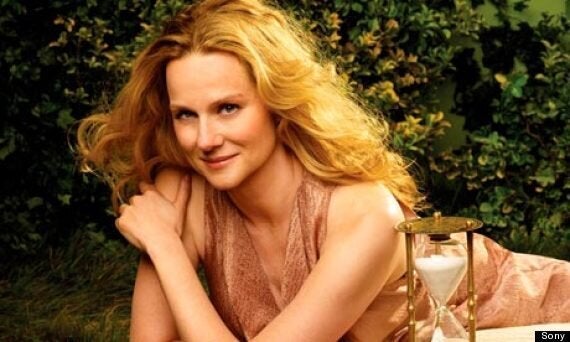 Laura Linney in 'The Big C' - a 'comedy' not about dying, but about living fearlessly...
Q: What was it about this show and character that appealed to you originally?
A: "At the time I wasn't interested in doing a television series but I was already obsessing in a sort of existential kind of way about time and life, and that's when the script came into my hands. So it was great timing. I decided I wanted to do the show because mortality was a subject that had been running through me for a long time. I've always been very aware that there is a limited amount of time that we're given on this Earth and that we make choices along the way about how to use and spend the time that we have."
Q: What kind of research did you do to prepare to play Cathy?
A: "My mother (Ann Leggett) was a nurse at Sloan Kettering (Memorial Sloan-Kettering Cancer Center (MSKCC)) in New York. So I grew up with a mother who was coming home every day after helping people with cancer. I was very aware of cancer as a young girl and I remember a lot of her patients. Because of that, I felt like I had done a lot of research before I came to the set. I also did a lot of research on melanoma, which was a form of cancer that I didn't know much about. I didn't understand how vicious that cancer could be. My mother's friend had melanoma and passed away while we were filming and she was younger than I am. I learned about the culture of cancer and the different kinds of cancer. There's the lung cancer world, the lymphoma world, the melanoma world, and all the more rare cancers and blood cancers."
Q: Has the show made you more vigilant about getting skin checks and visiting the dermatologist?
A: "It has, now I get a full melanoma check every year. And I mean full! There is a woman with a microscope all over and under my body. But I am also fortunate in that I grew up in the theatre and I was always indoors--thankfully--so I've never really been exposed to the sun a great deal."
Q: Do you lead a healthy lifestyle?
A: "Sometimes I do and sometimes I don't. Sometimes work dominates my life and I don't take the time to eat healthily. Like most people I'm really bad at balancing and integrating good, healthy habits into my life. I'm trying to do that more and more, but I'm not very good yet (laughs). What helps me is that I love what I do. I love my work. That is a huge benefit, I think it helps a lot. If I were in a profession that didn't suit me, I think I'd be very unhealthy. I've been incredibly fortunate to study what I love with great people in great places, and I've actually been able to apply it in my work. I think more than anything I've found my place in the world."
Q: What do think the show has to say about ageing?
A: "It says that it is a privilege to age. I think I even say that in the first season. I really believe that is true. I hear so many people complaining about getting old; people want to go back in time. But ageing is a tremendous privilege. The show really explores that message. We live in a culture that doesn't always value ageing and I work in an industry that doesn't always appreciate it. So it is an interesting vortex to live within. It is human nature to be cavalier about time, but time is so valuable. I don't want to waste my time, and I want to be exactly where I am. I want to be who I am: someone in her late forties. I just want to enjoy being here."
Q: THE BIG C deals with cancer yet it's very funny, what does the humour contribute in a show like this?
A: "There is a lot of comedy and there is something about comedy that can get you closer to a sense of truth. That is when comedy is so powerful."
Q: You have said in the past that there is 'nothing more honest than death'. Could you elaborate on what that means to you?
A: "I mean that you can't get around it. Death is death. You can't spin it. It's universal and it's in front of everybody; I think we all are afraid of death. It is only the very enlightened few that are not afraid. Fear of dying is one of the few things that everybody shares."
Q: What is your view on alternative or complementary medicine?
A: "I would certainly look at it, but I would definitely consider proper avenues of care as well. I think there can be a good balance."
Q: The final season of THE BIG C has already been shot. Was that last day quite emotional?
A: "Sure, but I also felt really good; it was an accomplishment. It was a wonderful cast and a great crew, and we were able to do some things that hadn't been done before."
Q: Have you always loved acting?
A: "I was obsessed with the theatre when I was little kid. My parents were divorced when I was very young, and I grew up with my mother. My father (Romulus Linney) was a playwright, and I certainly had his influence and his DNA. I have always loved the theatre. I usually do a play every other season. I love the history and the buildings and the theoretical aspect of theatre. Very unexpectedly my life took a turn and I started working in film and television which was a huge surprise. It opened up a whole world of questions and challenges in terms of how to tell a story and create a character."
Q: How do you deal with fame and success?
A: "Well I am not that much of a celebrity--I'm really not. I've grown accustomed to being recognized on the street, though that can sometimes be strange. Most of the time it's sweet and people are very kind to me, but there are other times when it can be intrusive and odd."
A: "Well ... there are the foot fetish people! I got a letter from somewhere in Ohio and the person was asking me about my shoe size. At the end of the letter he even requested that I send photos of my bare feet. (laughs) I've received a few of those over the years."
'The Big C' Series 3 is now available on DVD. Watch the season trailer below...
Related