FIFA 14 is EA's latest instalment in the titanic series of football simulations. It's out on PC, Xbox 360 and PS3 from September 27, and next-gen consoles later this year.
"With 'Pure Shot', players have the intelligence to adjust their stride and approach angle to find the best position for hitting the back of the net."
'Pure shot' gives players more control over positioning when attacking
Precision movement system with new pivots, cuts and movement options
'Real ball physics'
Ultimate Team + exclusive 'legends' mode on Xbox 360
Co-op seasons
Global transfer network
Refreshed graphics, teams, players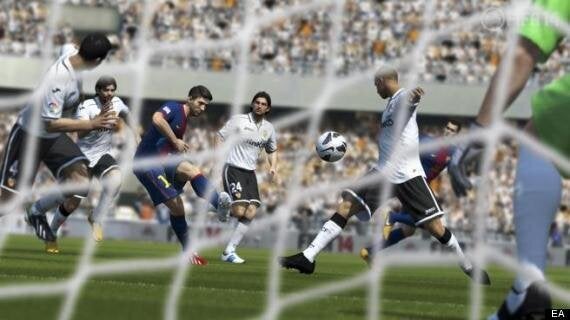 Like Manchester United in pre-season, EA Sports stood still with FIFA 13. The gameplay was not so much of an issue as the slowness of the game, which was inexplicably sluggish and more dawdling than the earliest FIFA versions on PlayStation 3.
It is obvious Fifa 14 is an improvement immediately after you select your preferred language. The menu is quicker to navigate and the design is simpler than the complicated home menu of last year's incarnation. Changing players could be an infuriating process with unlucky 13, but it's swift in the latest offering. No longer does the ordeal resemble a stream buffering.
Other kinks ironed out include the delay when you're desperate to switch to ultra-attack after conceding in games. The superfluous scoreboard still appears, but it doesn't linger for an eternity.
The most notable difference in the gameplay is the passing and pace of the matches - which are slower. This can be altered, but it probably lends an even more realistic feel, especially since players are more confrontational, grappling and remonstrating with each other, as well as the referee.
Players are more vulnerable, too. Real-life weaknesses have been taken into consideration though the defences are still frustratingly miserly, as EA veer away from the early-21st century FIFA editions which enabled you to tot up basketball scores. Some of the new celebrations are daft but laugh-out-loud funny. You're never going to see Wayne Rooney do a mime act on an actual pitch.
Free-kicks are still too dull. It would be nostalgic and shrewd of EA if they took a leaf out of FIFA 03's book, when you could aim with a crosshair before attempting to hit the green spot (much alike taking penalties on this decade's games) on something that resembled Sky Sports' cricket rev counter. It was tough to pull off but so satisfying whenever you bent it like Beckham.
Manager mode has been beefed up, with contracts trickier to negotiate, more mail to respond to and a greater emphasis on nurturing potential academy graduates. There is perhaps too much detail as it resembles Football Manager even more when FIFA is supposed to be escapism away from that life-ruining madness.
The Global Transfer Network, admittedly, is a positive addition and more useful than filtering for the player to fill your requirements. You're allowed to hire up to six scouts, whose experience and success varies, before assigning them to all the corners of the universe.
Jeff Stelling is added to the Sky Sports heavy cast, while Martin Tyler and Alan Smith remember how they were driving through Wigan when news of Sir Alex Ferguson's retirement was announced. There's still no Gary Neville, disappointingly, with Clive Tyldesley and Andy Townsend the reserve options, but the soundtrack is much more bearable.
Online mode remains competent at best. Games are arranged quickly and the speed, depending on your broadband service provider, is decent though there is scope for improving the overall experience.
FIFA 14 is a success and the game-makers have evidently listened to the criticism which 13 generated. With its nifty layout and slickness, it is a vast improvement and all the more enjoyable for it.
Related