'Coronation Street' actor Michael Le Vell has reportedly been offered a six-figure sum to appear on 'Piers Morgan's Life Stories'.
Le Vell, who has played mechanic Kevin Webster for 30 years in the ITV1 soap, was this month cleared of 12 sex charges. Michael Le Vell
If the actor does appear on Morgan's chat show, the interview would mark Le Vell's first TV appearance since being found not guilty of five counts of rape, three of indecent assault, two counts of sexual activity with a child, and two of causing a child to engage in sexual activity.
An ITV source reportedly told the Daily Star: "Nobody can begin to imagine the year of hell Mike has had. He can now shout from the roof tops that he is an innocent man. ITV are keen to make sure that's done on their channel.
"He is being offered well into six figures to tell his story and we're pretty sure it's a done deal.
"It's a huge coup for the show and they know it's going to be a big ratings winner."
'This Morning' and 'Daybreak' are also reportedly keen to get Le Vell on their shows.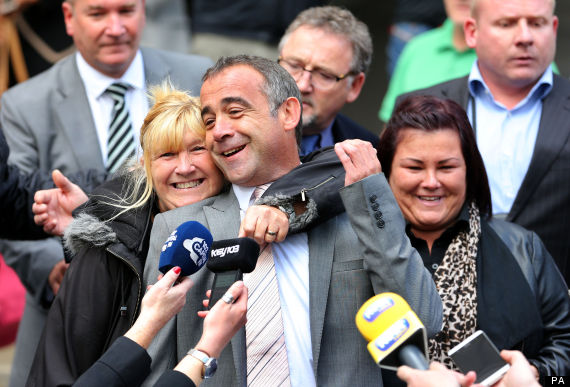 Michael Le Vell was hugged by his sister Sue outside court after the not guilty verdict
The 48-year-old has also reportedly been offered a role on 'I'm A Celebrity… Get Me Out Of Here!' to help him pay his legal fees.
A source told The Sun he would 'jump at the chance' of appearing on the show, giving him the opportunity 'to show the public what he is really like'.
Helen Flanagan - who played Le Vell's daughter on 'Coronation Street', and also appeared on 'I'm A Celebrity...' last year - said that going into the famous jungle would be 'good for him'.
Speaking on 'Daybreak', she said: "I would love that if Michael went on I'm A Celebrity. He'd be hilarious, he'd be really grumpy in the morning. That would actually be good for him because people could see what a lovely guy he is."
'Coronation Street' bosses are also said to be planning how to reintroduce Le Vell into the soap in the New Year.
LIKE US ON FACEBOOK | FOLLOW US ON TWITTER