A heroic policeman was caught on camera crawling to save a mother and chldren during the Nairobi mall massacre.
As the family lie paralysed with fear, pretending to be dead, the officer slides along the floor and persuades them to come with him, using his body to shield one of the children.
The amateur footage from inside the Westgate Mall has just emerged, as experts work to establish whether a British woman was among the Islamic terrorists who stormed the shopping centre, killing more than 70 people.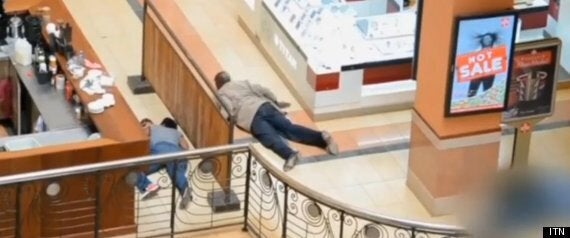 The policeman slid along the floor
Kenyan President Uhuru Kenyatta said the al Qaida-linked terrorists who overran the Westgate centre in Nairobi on Saturday have now been "defeated" - with five militants killed and 11 others in custody.
He confirmed also that intelligence reports had been received suggesting that a British woman and "two or three" American nationals had been involved in the attack.
"We cannot confirm the details at present but forensic experts are working to ascertain the nationalities of the terrorists," he said in a televised address.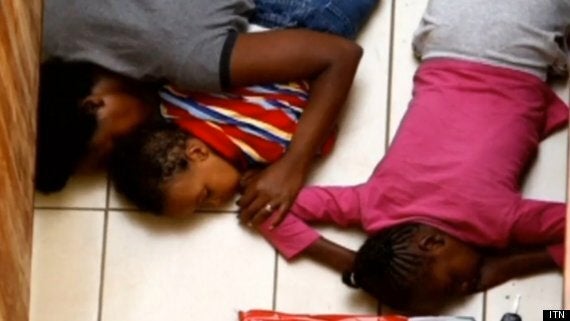 The family were frozen to the spot, pretending to be dead
Announcing three days of national mourning, Kenyatta said that 61 civilians and six members of the security forces had been killed in the fighting, while 62 injured remained in hospital.
UK Ministers have already confirmed that there are at least six British nationals among the dead, with fears the number could rise.
Dubbed the "White Widow", she is known to be in East Africa and is wanted by Kenyan police over alleged links to a terrorist cell that planned to bomb the country's coast.
While Kenyatta did not say whether the suspected British woman was among those in custody, the fact forensic tests are being carried out would suggest she was one of those who had been killed.