"Using RHA's aerophonic™ design, the MA750i is constructed from individually machined stainless steel components. The handmade driver and over-ear fit ensure remarkable sound reproduction and a comfortable, noise isolating fit."
Handmade 560.1 driver for articulate sound reproduction with a great depth of soundstage
Noise-isolating design with contoured over-ear cable
303F grade stainless steel construction
3-button remote and microphone
Dual density silicone and memory foam ear tips
Premium carry case and stainless steel ear tip holder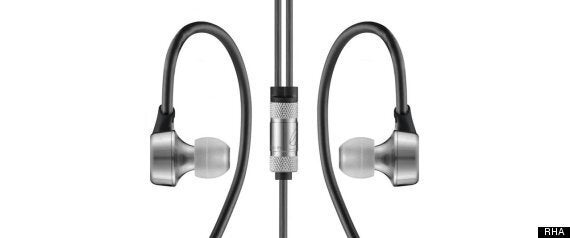 Your first impression of the RHA MA750i earphones - once you've removed them from the ornately packaged box and marvelled at the oddly comprehensive selection of dual density silicone, double flange silicone and memory foam ear pieces included within - will go one of two ways.
Roughly half of you will be immediately impressed, and perhaps even intimidated, by the build quality. For these are extremely well-made, solid - and let's face it, weighty - 303F grade stainless steel headphones. The earpieces are individually machined, and feel like something you've pulled off the side of a space shuttle when no one was looking. The headphone jack is heavy and reinforced, and the three-button remote and microphone piece is also practical and strong.
Every other aspect of the build quality has been carried out with an eye to industrial brutalism. The cable is described as "steel reinforced" and "oxygen-free" while the range of 10 pairs of ear pieces are also designed to make you feel like an audio scientist - mixing and matching the constituent parts to make the ultimate audio cocktail.
That's how half of you will probably feel. The other half will be a bit disappointed. Because the result of all of that hardcore heft is a pair of headphones that are actually - in this reviewer's opinion - a little uncomfortable to wear. They're heavy, and the big remote pulls on the earpieces and gets caught in your clothes. They do stay in place - the over-ear style makes sure of that - but you're not going to want to wear them when running. They're just a bit unfriendly - like a very strong, but aggressive bouncer.
How do they sound? In general, extremely decent. Everything is crisp and clear, and there's no over-abundance of bass as you'd find in many poorer-quality, but more expensive competitors. The sound is just totally balanced, straightforward and clean. The noise isolation is also very good, with the memory foam ear-tips working particularly well.
The problem with these headphones is not the build, the sound or even the price - a very reasonable £89.99 for the level of tech involved.
The problem is simply that unless you've already tried them, and liked the feel, weight and sound style, it's hard to be sure that they're for you. If you're looking for something with outward quality, a 'premium' feel and reassuringly detailed tech specs, they may well be perfect. But if you get them and find they're either awkward to wear, too heavy or you don't like the wraparound fit, it's possible you might be disappointed. That said it's hard to fault them - they're great value for money, and look like they cost twice the price.
Related