A commuter who told an Asian man to "f*** off back to your own country" in a rant on a Tube train, walked free from court declaring "I'm not a racist."
Accountant Claire Moloney, 40, was found not guilty of racial harassment after her foul-mouthed tirade towards the unidentified man went viral on YouTube.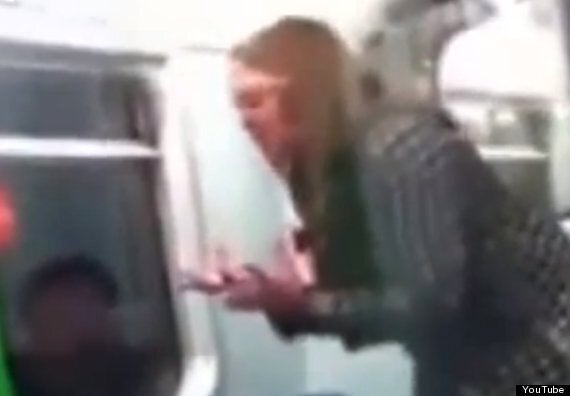 Claire Moloney walked free from court
In the video, Moloney told the commuter: "I f****** respect people in their countries, f*** you c***."
Furiously standing up in her seat the mother-of-two screamed: "You come in this country, you wanna have f*****g everything on a plate. F*** off back to your own country if your country is so good."
When the alleged victim told her that she was being racist, she replied: "You c**** wanna take over our country, you racist c***, you wanna take over the world."
The jury of five men and seven women cleared her of using racially aggravated words to cause harassment.
Moloney said she was embarrassed to watch film footage in which she screamed at an unidentified man.
She sobbed and fell in to the arms of her husband in the public gallery as the jury gave their verdict.
She claimed she had not actually said anything racist and had only began the tirade because the man had made offensive comments towards her.
"I'm not a racist in any shape or form," she told the court. "I agree the language is horrific and I am mortified.
"I was insulted and I lost it and I ranted; I was arguing my case. I was in a rage, I lost control and I was ranting but he was goading me."
By the end of the video, shown in court, the victim had given up arguing and told her: "OK, I'll go back to my country."
She was arrested on April 2013, despite the clip first being uploaded in November 2010.
Christopher Draycott, prosecuting, said: "It is not a crime merely to swear in public, the words or behaviour must also cause the other person harassment, alarm or distress.
"The prosecution will not call a witness from that day from that train. Quite clearly these words would cause harassment, alarm or distress and they did cause that.
"The defendant is up out of her chair and leans into his personal space and he appears to lean back in his chair.
"At least in part this incident was racially motivated and was put to him because of his membership of a particular racial group."
The incident took place on an unknown date believed to be on a District line train between Stepney Green and Mile End station.
Moloney, of Dagenham, had denied racially aggravated harassment, causing alarm or distress.