 José Mourinho might have hoped his return to Chelsea and Sir Alex Ferguson's retirement would have unofficially anointed him the new godfather of English football. Despite his relative youthfulness, he has experienced immense success, baited Manuel Pellegrini during their time in Spain, had Steve Bruce calling him "the Special One" on the opening day and past allies in Brendan Rodgers and Steve Clarke are full-time coaches.
But there is also André Villas-Boas, a one-time confidante but now a full-time enemy.
"I worked for José for seven years but we haven't spoken for quite some time," Villas-Boas said on Thursday. "I haven't even got his number now." Porto's Mourinho and Villas-Boas at Stamford Bridge for Chelsea-Monaco in 2004
Though Mourinho is compared with Brian Clough his reports on opponents was more Don Revie, and it was Villas-Boas who filed the dossiers.
In January 2009, then Internazionale coach Mourinho returned, briefly, to England to watch Manchester United's 3-0 defeat of Chelsea, with Villas-Boas sat beside him in the Old Trafford directors' box. It was one of the last public sightings of the duo together, with Villas-Boas' aspirations to become a coach intensifying and leading him to Académica that summer.
During his short managerial career Villas-Boas has never faced Mourinho but he has risked antagonising him.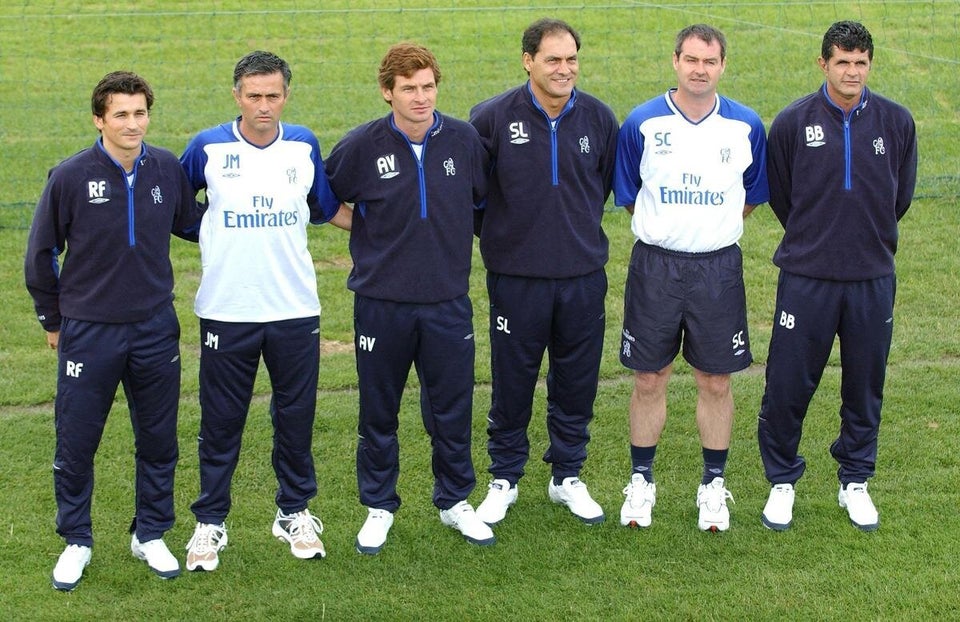 Mourinho and Villas-Boas
"I left Inter because I wanted the extra edge to fulfil my ambitions as a professional coach, so I took the risk to find my own job," Villas-Boas said in 2011. In the same sentence he spoke of "dictators", a thinly-veiled jibe obviously aimed at Mourinho and which arguably affected Villas-Boas' popularity at Chelsea at the time.
Porto's 2011 Europa League win was dedicated to Barcelona coach Pep Guardiola at a time when the Clásico rivalry reached new heights and plummeted to new depths. "Pep was always an inspiration to me when I left Inter because of his methodology, and the way he plays such fantastic football," Villas-Boas purred. That methodology had just defeated Mourinho's Real Madrid in a fraught Champions League semi-final.
Mourinho did get a mention, too. "José introduced me to professional football, so I'd also like to dedicate this to him," Villas-Boas mentioned glibly. It didn't mask the Chelsea-bound coach's estranged relationship with his one-time mentor, however.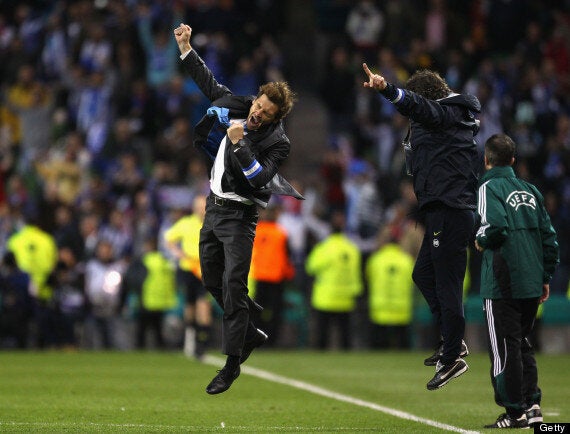 Villas-Boas celebrates Porto's 2011 Europa League win
Tensions between the Portuguese pair could simmer now Mourinho is back in the Premier League. Whereas Rodgers and Clarke aren't threats, Villas-Boas and Tottenham are, as Mourinho acknowledged when he championed them the "kings" of the transfer window. Chelsea's hijacking of Spurs' proposed deal for Willian advertised the Blues' concerns, especially since the Brazilian was not an essential signing.
The trip to Tottenham comes at the end of a damaging week for Mourinho, after a new book claimed he shed tears when David Moyes was announced as Ferguson's successor at Manchester United.
Mourinho's representatives at Gestifute were contacting United at the 11th hour in a desperate bid to reverse the inevitable back in May. This was detailed months ago but the tears of Diego Torres' narrative have added emotion and exposed another chink in the armour of a coach whose management has been booed on two separate matches at Stamford Bridge already this campaign.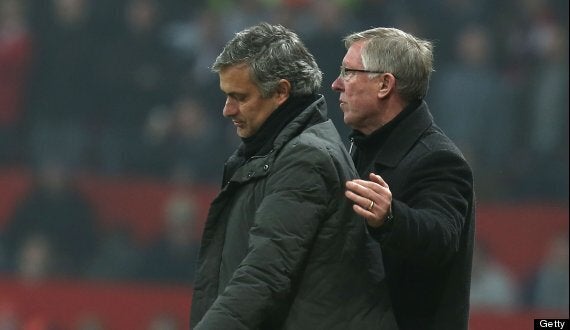 Mourinho was overlooked by Ferguson in favour of Moyes
Chelsea and Mourinho's marriage is one of convenience. The lovestruck Roman Abramovich was jilted by Guardiola in January and Mourinho was overlooked by Ferguson in favour of someone "who's won nothing". His resistance to chide Moyes so far is perhaps motivated by his cover story of preferring to take the Chelsea job as his wife wanted to live in London.
It also brings into question whether Mourinho's heart is really in it at Chelsea. He wanted to return to England, preferably to Manchester, and his ego is bruised not just from three stressful years in Madrid but Ferguson's rejection.
The Don is slippin', but like Vito Corleone, he's still alive.
Popular in the Community