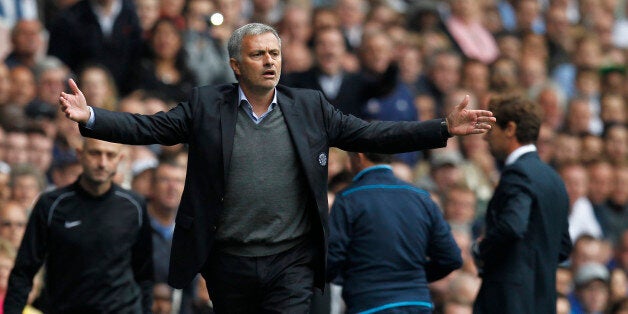 André Villas-Boas lasted less than five minutes and José Mourinho went on for nearly 20. Press conference durations are not the only thing these two differ over, but the Portuguese pair were in agreement over Fernando Torres' second yellow card which ended his match on 80 minutes.
"Dubious and unfair," Villas-Boas thought. Mourinho was more loquacious.
"I am waiting for you. I am waiting for you," he responded when asked about Torres' foul on Vertonghen which prompted his exit. "I am curious to read what you want to say about that.
"I don't think the referee's guilty. The referee trusts the player and when you see the player with his hands in his face and pretending it was a violent action the referee's normal tendency is to follow and make the decision. For me it was a situation when the player wasn't helping the referee.
"But he's a special guy [Vertonghen]. He left the Aston Villa striker [Nicklas Helenius] naked, it wasn't a penalty, it wasn't a red card. He shouldn't have played this game. If you go to YouTube it is top of the ridiculous situations in football. The boy was naked and today he changed the game."
Mourinho was happier lavishing praise on Juan Mata, who didn't start again but emerged the catalyst for Chelsea's impressive second-half performance.
TORRES HELPS THE BLUES... BUT SEES RED: TOTTENHAM 1-1 CHELSEA
"This is the way players have to say I want to play," Mourinho explained. "'Blah blah blah,' is not good, conversations with you is not good. The agent's 'Blah blah blah' is not good. Good is this.
"It's the effort he made against Swindon, the way he changed the team in the second half and because of that I'm a very happy manager to say 72 hours in advance he plays against Steaua Bucharest. He won that by himself."
Though Tottenham were dominated in the second-half they were dominant in the first and Villas-Boas rued Paulinho's effort which clipped the post prior to the pause.
"We deserved that for the first half we played," he lamented. "I think Chelsea had the upper-hand on the counter-attack [after half-time], looked very very strong and deserved to get the equaliser."
JUAN MATA MAN OF THE MATCH? TOTTENHAM-CHELSEA PLAYER RATINGS
Mourinho agreed and was adamant Chelsea would have won the match had Torres not been sent off. "We were much much better and much much stronger, they were in trouble."
Was there an interval rant to galvanise his team?
"Not much. Not much really simple things objective things, explain a few situations. Not much, not much," Mourinho shrugged.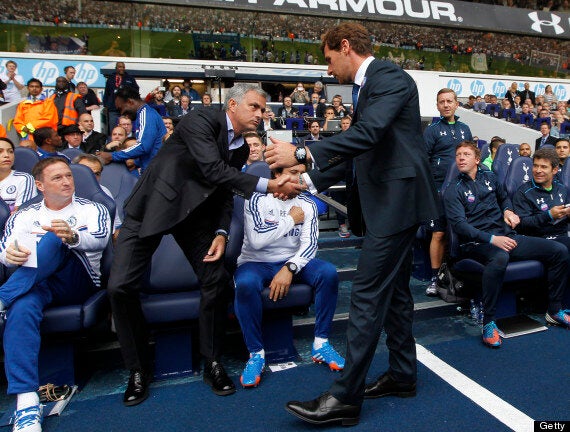 Villas-Boas greets Mourinho
He and Villas-Boas exchanged a cordial handshake before kick-off and neither was in the mood to reflect on the tension which has simmered in the last few days.
"We had a brief chat just now and I explained to him I have to leave," Villas-Boas mentioned. "The attention shouldn't be drawn to the managers."
Mourinho was blunter. "I'm not interested in what André said."