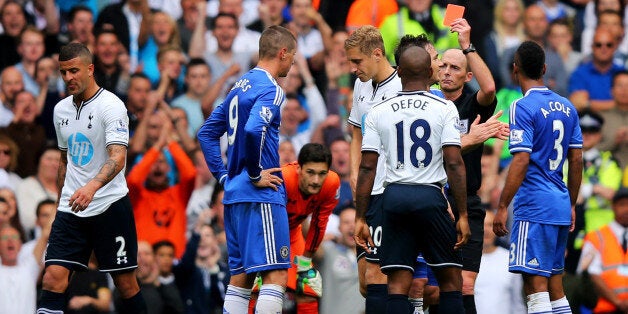 On a day when two Portuguese received top billing, it was the Spaniards who had everyone talking following Tottenham and Chelsea's rumbustious encounter at White Hart Lane.
Juan Mata and Fernando Torres were instrumental figures behind Chelsea's second draw on the road this season, with the latter dubiously dismissed during one of his most impressive halves in a blue shirt.
It was 80 minutes which epitomised Torres' spell at Stamford Bridge: goalless, with sporadic bursts of promise and an unhappy ending. He will miss next week's match at Norwich. "Fantastic," José Mourinho replied when told he couldn't appeal the sending off.
Mourinho anointed Tottenham "kings" of the transfer window and paid another compliment via his starting XI, with a three-man barrier in midfield deployed to stifle the crafty Christian Eriksen. It wasn't quite a repeat of Mourinho's infamous and strikerless side at Manchester United last month but it was another pragmatic approach, which won't please Roman Abramovich.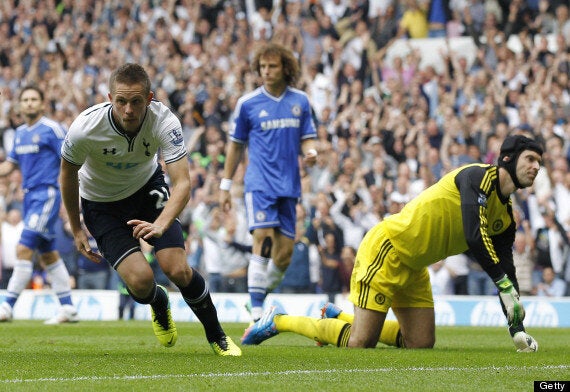 Sigurdsson celebrates his opener
An unsurprisingly congested start featured with a flurry of fouls as the flow of the game was compromised. Jan Vertonghen's mis-timed header from Gylfi Sigurdsson's free-kick was the sole outstanding chance until Eriksen navigated his way through the congestion.
The Dance danced past Frank Lampard and flicked the ball through for Roberto Soldado to classily lay-off for Gylfi Sigurdsson, who powered his way past John Terry and slotted past Petr Čech for his third goal this campaign.
White Hart Lane is an ambivalent ground for Terry. Sent off twice at Spurs and confronted by a pitch invader in the 2007 FA Cup tie, he missed last year's fixture due to his four-game ban for racially abusing Anton Ferdinand but was welcomed back with chants of, "John Terry, your mum's a thief."
Torres cut a familiarly forlorn and frustrated figure. Some strikers, such as Romelu Lukaku, rarely look isolated when they're the lone striker but Torres was a downgrade on Samuel Eto'o's laboured display against Fulham last week.
On one occasion, he sardonically applauded referee Mike Dean, which symbolised the whole stadium's exasperation amid a stop-start half. When the first booking belatedly arrived in the 43rd minute it was ironically for Andros Townsend diving.
Spurs almost submitted a contender for goal of the season when Kyle Walker's backheel in his own half freed Townsend to terrorise the visitors' defence again. The ball found its way to the marauding Paulinho, but the angle was too acute and he clipped the outside of Čech's post. "We deserved to score that for the way we played," André Villas-Boas reflected on the chance.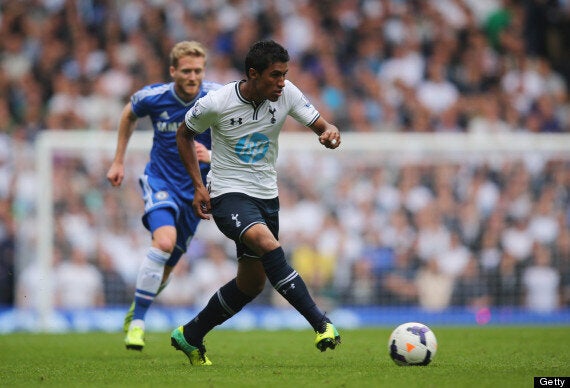 Paulinho's missed chance proved to be critical
Mourinho instructed André Schürrle, Samuel Eto'o and Juan Mata to warm up during the first period and the latter was introduced at half-time for the nondescript John Obi Mikel, prompting a formation switch to Chelsea's favoured 4-2-3-1.
The switch benefitted Chelsea and Torres, whose burst down the channel nearly assisted Oscar for an equaliser less than five minutes after the interval. Ramires began to enjoy the better of his Brazilian battle with Paulinho and Torres showed another glimpse of his Liverpool pomp but was denied by the alert Hugo Lloris. Chelsea were in the ascendancy and soon had the ball in the net, alas Mata was offside.
Torres, earlier booked for a shove on Vertonghen, had the Belgian rattled, but it was Ramires who felt the full force of Vertonghen's scything tackle which had dire repercussions for Spurs. Mata, whose through ball won the free-kick, hit an in-swinger which was ideal for Terry, free of his marker, to nod in and give Chelsea the equaliser their play had merited. Villas-Boas admitted Chelsea "had the advantage on the counter-attack", chiefly thanks to Mata's influence.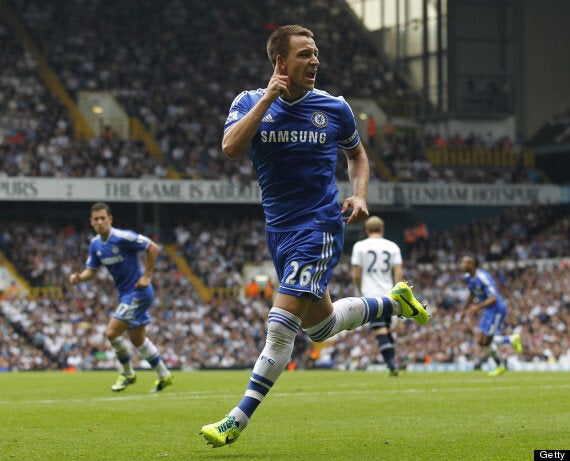 Terry goads the Tottenham fans
The Portuguese pair on the touchline freshened up their attacks as Villas-Boas attempted to regain the initiative while Mourinho smelt blood.
And the traffic was still one-way. Lloris brilliantly denied André Schürrle and Kyle Walker prevented the German from tapping in the rebound before Torres collided into Vertonghen.
The impact looked worse at the time but Dean, who had officiated pedantically, dramatically waited before he flourished a second yellow card and Torres trudged off. Both bookings were soft and debatable, and Mourinho raised his voice - and his discontent - with the fourth official. "Dubious and unfair," Villas-Boas opined.
Cesar Azpilicueta arrived to complement a five-man Chelsea defence, yet Jermain Defoe still breached the rearguard to shoot tamely at Čech. Though both teams drew, Mata emerged the winner and will start away to Steaua Bucharest on Tuesday.
"He's won that by himself," said his coach. He could have won the game had Torres stayed on.