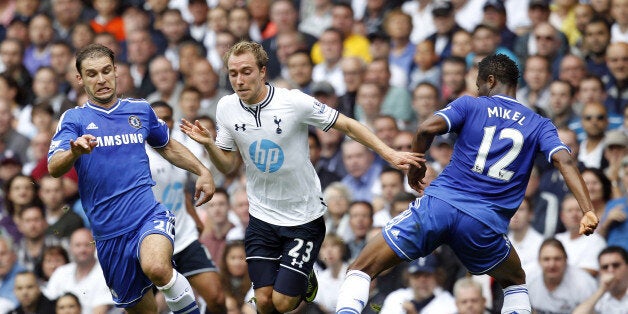 Here's how the players performed...
Hugo Lloris Made two good and crucial saves as Chelsea threatened. 7
Kyle Walker Still suspect in attack but denied Schürrle well. 6
Michael Dawson Struggled when Chelsea upped the tempo but refused to wilt. 6
Jan Vertonghen Rattled by Torres after the break and struggled with Spaniard's cleverness. 6
Kyle Naughton Doesn't convince at left-back and easily exposed, albeit not often enough for Mourinho's liking. 5
Mousa Dembélé Conceded too many fouls and should have been taken off. 5
Gylfi Sigurdsson Took his goal well and was enterprising until the end. 7
Andros Townsend Blighted bright hour with dive but troubled Cole. 6
Christian Eriksen Faded after half-time but troubled Chelsea no end in first 45. 6
Roberto Soldado Failed to get involved enough. 5
TOTTENHAM 1-1 CHELSEA: TORRES HELPS THE BLUES... THEN SEES RED
Petr Čech Steady, as he invariably is. 6
Branislav Ivanović Slack and off the pace, he still looks uncomfortable at right-back. 5
John Terry Commanding and dominant despite a hostile crowd. 7
David Luíz On this evidence it's perplexing why Mourinho preferred Gary Cahill in the first place. 7
Ashley Cole Blood twisted by Townsend but recovered in second period. 6
John Obi Mikel Was AWOL for Spurs' goal and dithered when Paulinho could have made it 2-0. 4
Ramires Overawed by Paulinho, he returned the favour after the break. 6
Frank Lampard A dubious selection not vindicated. 5
Eden Hazard Rarely on the ball. 5
Oscar Will have to do more to prove he is Mourinho's preferred number 10. 5
Fernando Torres Forlorn in the first-half, frenetic in the second. Unlucky to be sent off. 6
MAN OF THE MATCH: Juan Mata. The catalyst behind Chelsea's recovery and one of the most wonderful players to watch in the Premier League.