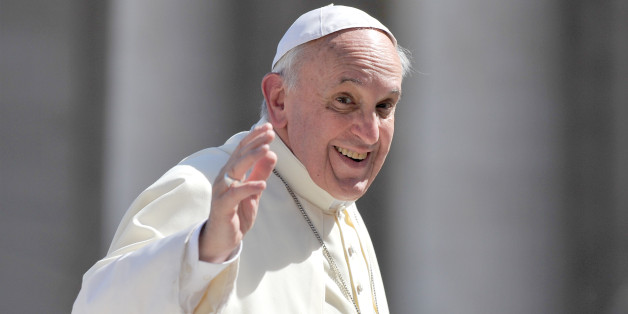 Getty
Pope Francis has vowed to change the Vatican's mentality, branding the papal court "the leprosy of the papacy."
In a sensational interview with the atheist editor of the left-leaning La Repubblica newspaper, Eugenio Scalfari, Pope Francis said too many previous popes in the Church's long history had been "narcissists" who let themselves be flattered by their "courtier" aides.
"Leaders of the Church have often been Narcissus, flattered and sickeningly excited by their courtiers. The court is the leprosy of the papacy," the pope said.
The Pope's comments came as he began a three-day, closed-door meeting with eight cardinals from around the world to help him reform the Vatican's troubled administration, known as the Curia.
There are some "courtiers" among the Curia's administrators, he said, but its main defect is that it is too inward-looking.
"It looks after the interests of the Vatican, which are still, in large part temporal interests. This Vatican-centric vision neglects the world around it and I will do everything to change it," he said.
"We need to include those who are now excluded and preach peace," he said.
In a separate interview published last month, the pope said the church should not focus on issues like abortion, contraception, and gay marriage to the extent that it neglects other aspects of the faith.
"We have to find a new balance," he said in that interview, published in Jesuit journals. "Otherwise even the moral edifice of the church is likely to fall like a house of cards, losing the freshness and fragrance of the gospel."
In July, he famously said "Who am I to judge" gay people.
In the most recent interview with La Repubblica's founder– a man known for his staunchly atheist views – the pair joked about conversion, during which Pope Francis said: "Proselytism is solemn nonsense, it makes no sense."
Mr Scalfari, who said he was left stunned having received a phone call from Pope Francis himself to organise the interview, disclosed that the Pope is hoping to radically change attitudes in the Vatican.
"We need to get to know each other, listen to each other and improve our knowledge of the world around us.
"This is important: to get to know people, listen, expand the circle of ideas. The world is crisscrossed by roads that come closer together and move apart, but the important thing is that they lead towards the Good."