Richard and Judy returned to 'This Morning' on Thursday, as the show came live from it's original home in Liverpool's Albert Docks to celebrate it's 25th anniversary.
Current hosts Holly Willoughby and Phillip Schofield and Ruth Langsford and Eamonn Holmes were joined by the married couple, who hosted the show together for 13 years until 2001.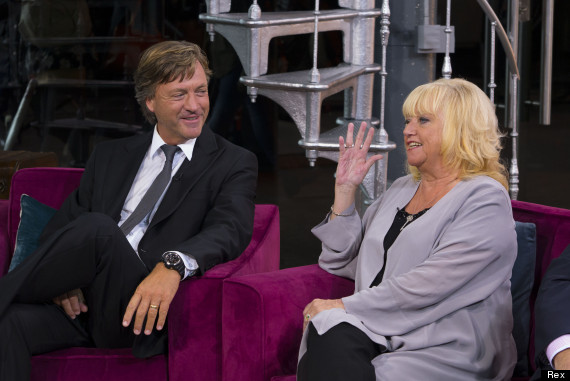 Richard and Judy returned to 'This Morning'
Richard Madeley described being back in the Liverpool studio as 'like a waking dream', with Judy Finnigan adding: "It was funny as we were walking down the colonnades earlier this morning and I didn't know where my head was, I didn't know whether it was here or 25 years ago… it's extraordinary."
On their favourite moment from over the years, Richard said: "We thought we'd go for the ones we remember fondly, and it's our live interview with Miss Piggy… Miss Piggy became real to us, she became a real person!"
> MORE: Watch 'This Morning's 25 Most Memorable Moments (VIDEO)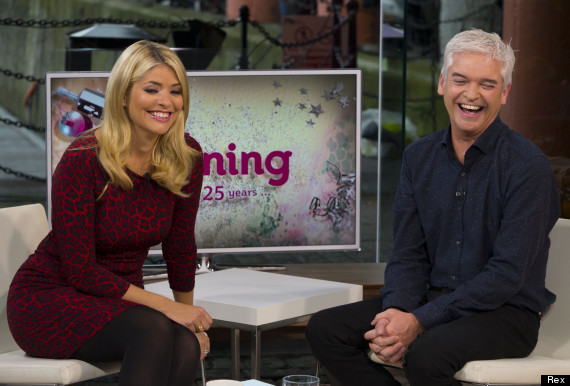 Holly Willoughby and Phillip Schofield hosted the anniversary show live from the show's original home in Liverpool
The show also featured a video message from former-host Fern Britton, who was unable to make the show's celebrations due to work commitments.
"I had a great time here for ten years and now in Holly and Phillip's hands it's just going from strength to strength and 'hi' Richard and Judy, without you this wouldn't exist.
"I've had some fantastic memories standing in this studio, I think my favourite must be 'dunking the beef' because it was just so unexpected… Happy Birthday!"
Many clips from the show's past were included in the episode, while the three pairs of hosts all participated in a quiz, which was won by Holly and Phillip.
Special guests for the anniversary show included 'Coronation Street' legend Barbara Knox who was keen to toast her 80th birthday alongside This Morning's celebrations, while Blue star Lee Ryan and Charlotte Church returned to explain how they first shot to fame all thanks to the show.
LIKE US ON FACEBOOK | FOLLOW US ON TWITTER