"I started the Boston Marathon as a girl and I finished as a grown woman," says Kathrine Switzer, the first woman to run the Boston Marathon as a numbered entry, in episode one of 'Makers: Women That Make America' on TV tonight.
The 66-year-old looks back at the defining moment in female sport in 1967 when she defied officials to run the Boston race, five years before women were officially allowed to compete in it. Katherine Switzer of Syracuse University found herself about to be thrown out of the normally all-male Boston Marathon
Switzer entered the race using just her initials but when the race director spotted her on the course he jumped off a bus and grabbed her in attempt to stop her efforts.
He failed - thanks to some help from a fellow runner - and his outburst was captured by the press.
In the first episode of the new inspirational documentary series, 'Makers: Women That Make America', Switzer explains how she felt that if she didn't finish the race "everyone [was] going to think woman can't do it".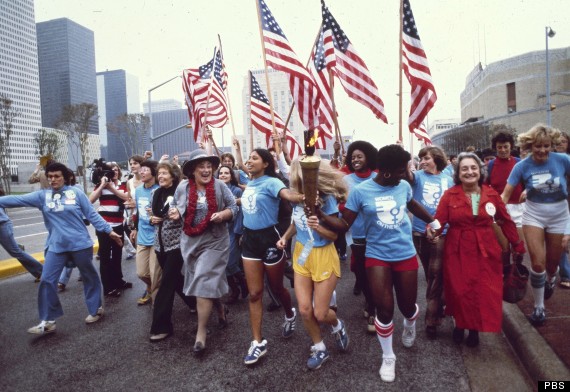 1977 Women's Convention
The following two episodes in the PBS series explore the Battle of the Sexes and the battle at home and breaking through the glass ceiling, with interviews with some of America's most inspirational women such as Oprah Winfrey, Ellen DeGeneres and COE of Facebook Sheryl Sandberg.
Read the full show details below:
MAKERS: Women Who Make America tells the remarkable story of the most sweeping social revolution in American history, as women have asserted their rights to a full and fair share of political power, economic opportunity, and personal autonomy. It's a revolution that has unfolded in public and private, in courts and Congress, in the boardroom and the bedroom, changing not only what the world expects from women, but what women expect from themselves.

MAKERS brings this story to life with priceless archival treasures and poignant, often funny interviews with those who led the fight, those who opposed it, and those first generations to benefit from its success. Trailblazing women like Hillary Rodham Clinton, Ellen DeGeneres and Oprah Winfrey share their memories, as do countless women who challenged the status quo in industries from coal-mining to medicine. Makers captures with music, humor, and the voices of the women who lived through these turbulent times the dizzying joy, aching frustration and ultimate triumph of a movement that turned America upside-down.
'MAKERS: WOMEN WHO MAKE AMERICA' - premieres Fridays at 9pm on PBS America (Sky channel 534 & Virgin Media 243).