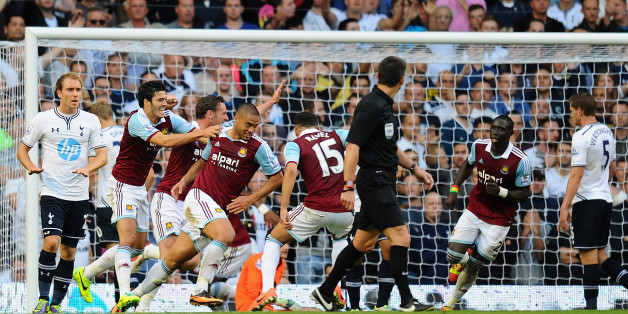 Getty
Just like last year, the victors prevailed by three goals but this time there was no overshadowing this victory. In this most open of Premier League seasons, West Ham United ended their 14-year wait for three points at Tottenham with a surreal 3-0 win.
Martine McCutcheon, once of the East End, was number one in the charts when Marc Keller struck for Harry Redknapp's side in April 1999, and the wait for similar success ensures West Ham will have a good old knees up at Spurs' expense.
It is their biggest win in north London since 1994 and the manner was hallucinatory, especially considering a mundane first 45 minutes.
Both sets of fans sang "what they want", despite the Metropolitan Police's pre-match threat, and made up for the caginess with their repartee and ribbing.
As with most travelling supporters, West Ham's contingent were more vocal. They all obligingly sat down because they hate Tottenham and all stood up because they love West Ham.
ALLARDYCE HAILS 'GENIUS' MORRISON AFTER WIN
Football followers' right to hate inside a stadium has come under jeopardy in recent years. Poisonous chants are not as widespread as the authorities might have you believe and some of the histrionic responses regarding the word "Yid" and its footballing derivatives did not deter Spurs fans from using the "Y" word.
Thankfully, there were no audible antisemtic chants from West Ham fans 11 months on from a minority's madness. David Gold, their Jewish chairman, made a poignant plea in Saturday's Guardian, remembering when he snuck into a cinema during the Second World War and watched a Pathé news report littered with dead Jews.
Instead a different "Yid" was at the centre of attention.
"Jermain Defoe, he's a Yiddo," chirped those in the Park Lane End. "Jermain Defoe, you're a c**t," replied the away section, still bitter about his 2004 switch.
Entertainment in the stands was bettered on the touchline, though.
White Hart Lane's press box does not offer an ideal view of proceedings but is a fascinating insight into off-pitch behaviour in the dugout. "Oh my God, thank you so much," one boy beamed after Roberto Soldado signed his programme, in a rare act of a footballer's kindness when they've got their game-face on.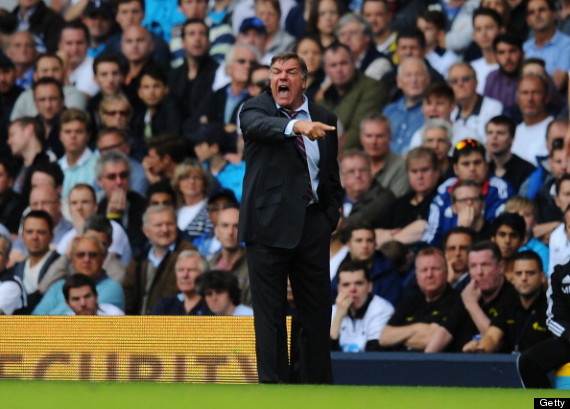 Allardyce was on expletive-ridden form on the touchline
Sam Allardyce might not be as magnetic or aesthetically pleasing as José Mourinho but he is box office in the technical area.
In 2001, Allardyce and Dave Bassett took part in an experiment which "showed managers literally put their lives at risk" following then Liverpool manager Gérard Houllier's heart attack.
The pair were wired up to heart monitors during Bolton's 2-2 draw with Leicester. Bolton had come back from 2-0 and a man down to equalise in stoppage-time and during the match Allardyce's heart rate reached 160 beats per minute, four times his normal resting pulse.
"F*****g stay onside," he implored Ricardo Vaz Té. West Ham had opted for a strikerless formation and their midfielders took it in turns to unconvincingly spearhead the attack, which maddened their manager.
If such an approach is scarce, it was nothing compared to an incident which vexed Allardyce.
"I've not seen that in 20 f*****g years as a manager," he told the bemused fourth official. "That's b******s."
Spurs' goalkeeping coach Tony Parks was just as profane. "F*****g hell, just kick it long," he demanded of Hugo Lloris.
Amid all this, Kevin Nolan volleyed wide from Stewart Downing's innovative free-kick. Ravel Morrison, meanwhile, received daggers from Tottenham assistant Steffen Freund en route to the tunnel after he interrupted the German's attempted pat.
"Yellow card, you're having a f*****g laugh," Allardyce moaned barely five minutes into the second period.
The fourth official cowered near the tunnel and perhaps considered retreating into the sanctuary of the dressing room, but tentatively poked his head out as Allardyce bellowed his latest complaint.
Ironically Allardyce was at his calmest when West Ham homed in on their first win at the Lane since 1999. Winston Reid's opener sparked off pandemonium in the away section and around Allardyce, but he was unruffled.
Many of Allardyce's players imitated him when Vaz Té doubled their advantage. Five of them strode over to the touchline to refresh and receive instructions.
Allardyce could not contain himself for much longer, though, when Morrison skinned Michael Dawson and dinked the ball over Hugo Lloris to make it three goals and three points.
"Let's go f*****g mental," roared the Irons. And Allardyce did.