Katie Price has unveiled her new baby boy Jett Riviera to the world, after posing for an OK magazine cover shoot.
The mum of four is seen showing off her sleeping son - born nearly two months ago - with her husband Kieran Hayler.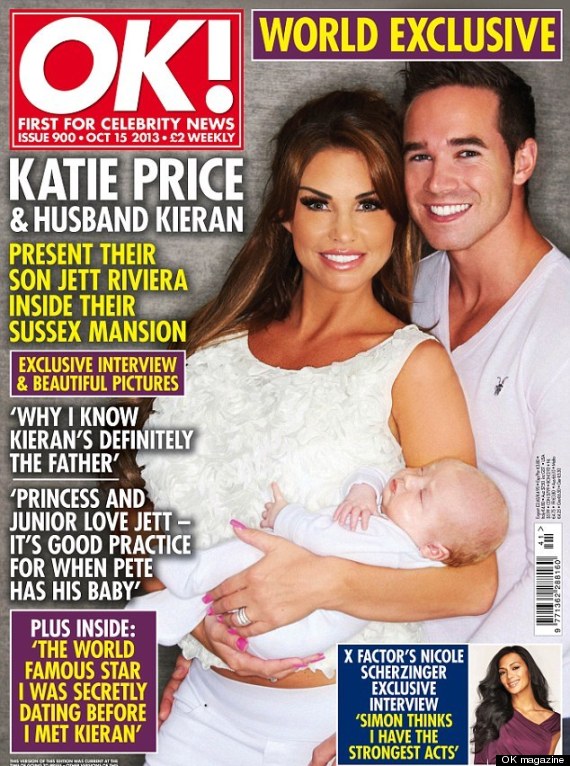 Katie Price and Kieran Hayler with baby Jett
Baby Jett's arrival came eight weeks early via Caesarean section, after Katie was admitted to hospital while on holiday.
She later said that giving birth in a foreign hospital was a 'nightmare' and was only recently allowed to bring Jett home.
Katie told OK that he has been doing well and has doubled in weight since his birth.
"Everyone who's met him comments on how he doesn't look like a baby who was eight weeks premature because he's so big! He's healthy," she said.
"He was 5lb 0.2oz when he was born and now he's nearly 10lbs, so he's already doubled!"
The new shoot marks Katie's first interview with a magazine in three and a half years after she proclaimed on Twitter she is 'back'.
She later added: "get @OK_Magazine tomoz to see and read about our lovely baby Jett! its been a long time since I last did an interview so grab a copy OK! xxx."
And what a cutie Jett is!
LIKE US ON FACEBOOK | FOLLOW US ON TWITTER