Liverpool forward Luis Suárez insists he has returned from suspension a calmer person and does not want "to be the same as before".
The Uruguay international has scored three goals in two appearances since serving his 10-game ban for biting Chelsea's Branislav Ivanović.
"I am aware that in recent matches that I played I've been calmer," he said on his return to Uruguay ahead of crucial World Cup qualifiers.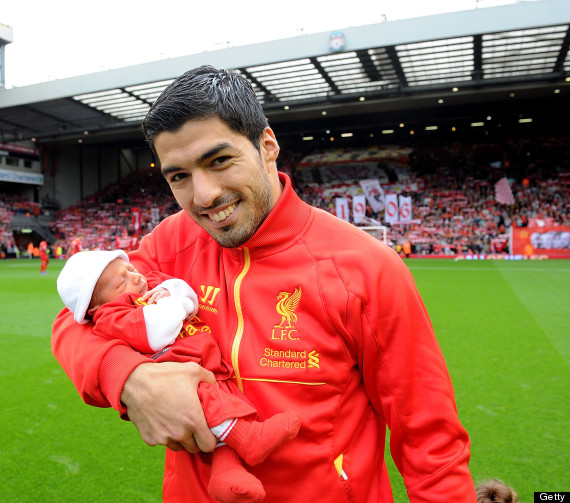 Suárez with newborn son Benja on Saturday
"I am very self-critical and I realised that playing well, with more tranquility, is helping me a lot.
"I realise and I prefer to continue and not be the same as before."
Suárez surprised many by appearing on the field with his children, but it is something of a tradition among South Americans and, despite initial resistance from club officials, they gave way on the striker's insistence.
"In England it is not common and the first club people told me I was not going to go with them but I told them that my children were going to come with me, like it or not," he told reporters who greeted his arrival at Montevideo airport in comments reported in Uruguayan newspaper El País.
"They understood in the end and it was a nice moment, a unique moment for me.
"They (family) make me think hard and calm me. Nowadays I think a lot of them when I'm on the field.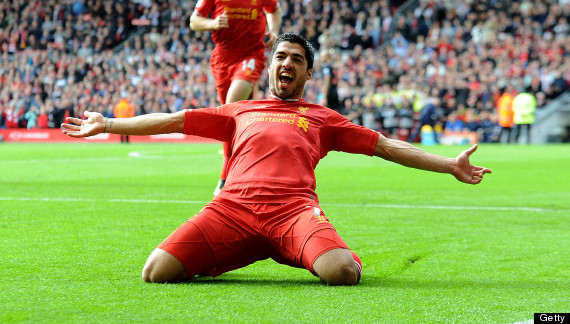 Suárez scored on his Anfield comeback against Crystal Palace
"I wanted my son to live as I do. I suffered a lot as a child and I do not want my children, or any other child, to experience the circumstances as I did.
"As a parent I try to give them all the love in the world and all the best."
Suárez dismissed some suggestions in the media that he had used his children to help win over fans on his first appearance at Anfield since the furore of his summer transfer saga when he accused the club of reneging in a deal allowing him to leave for a Champions League side.
"What the English papers say I do not care," added Suárez, who earlier in the summer had cited the British media as being one of the reasons he wanted to leave.
"The only thing I care about is playing football, and enjoying my family is what I love most."