Britain's youngest gun crime victim, thought to be left paralysed after being gunned down in a gang-related attack, has regained feeling in both of her legs.
Thusha Kamaleswaran was shot and left paralysed by a stray bullet in Stockwell, south London, two years ago as she played in her uncle's shop in Stockwell, south London.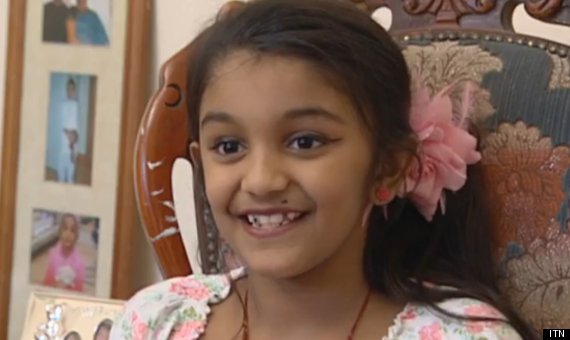 Thusha Kamaleswaran has left doctors stunned
Medics feared that the aspiring dancer was permanently paralysed after the incident but ITV's Tonight programme has reported that the youngster has started to regain feeling in both legs.
After a year in a spinal unit, Thusha could just about wiggle her toes and it looked certain the aspiring dancer would never walk again.
But thanks to her boundless determination, the seven-year-old may soon be able to stand on her own two feet.
In a heart-warming teaser clip of the programme, she is seen smiling as she is praised for progress in her rehabilitation.
As a medic manipulates her foot Thusha, now eight, can tell whether her toes are pointing upwards or downwards without looking.
Thusha was hit in the chest and the bullet passed through the seventh vertebra of her spine.
Chilling CCTV footage showed the girl , then five, skipping and dancing in one of the aisles of the shop when she was shot.
She lay slumped on the floor before terrified relatives grabbed her and rushed her to safety at the back of the shop.
She went into cardiac arrest twice and had to undergo emergency surgery in the shop and in hospital.
Nathaniel Grant, Anthony McCalla and Kazeem Kolawole were given life sentences at the Old Bailey in April for causing Thusha and shopper Roshan Selvakumar grievous bodily harm with intent.
They were members of the Brixton-based OC (Organised Criminals) gang, and were on the hunt for a member of their bitter rivals ABM (All Bout Money) when Grant opened fire into the shop.